If your abdominal pain is mild, and there are no concerning symptoms, these tips may help:
drink plenty of water
try a heat pack or hot water bottle where it hurts, or have a warm bath
take paracetamol to ease pain
do NOT take aspirin or anti-inflammatory drugs (such as ibuprofen) unless advised to as these can make abdominal pain worse
avoid alcohol, tea and coffee
rest your gut by not eating for a few hours, then start again when you feel better on bland foods (such as rice, crackers, bananas or toast)
lie down and rest
if constipated, read more about what you can do
ask your pharmacist about medicines to ease wind, spasms or to stop diarrhoea
tell your doctor if your medication causes indigestion, constipation or diarrhoea.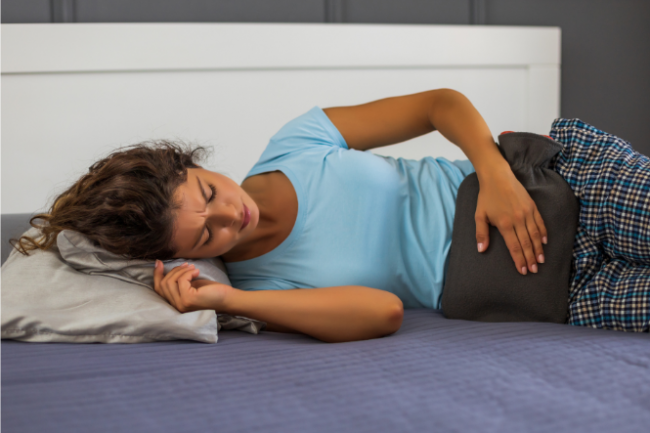 Image credit: Canva
When to get help
Contact your healthcare provider or call Healthline (0800 611 116) if:
your pain is no better after 2 hours of home care
your abdomen is very painful, eg, if you can't walk or need to walk bent over, or feel you need to hold your tummy all the time
your pain gets worse over time, or becomes sharper or stronger in one place
your abdomen feels bloated or sticks out more than usual
you have diabetes and are vomiting
you can't stop vomiting
you haven't had a bowel motion (poo) for 3 days
you have lost your appetite
there is blood in your vomit, urine (pee) or bowel motion, or vaginal bleeding that isn't a period
you have other symptoms as well, such as fever or dizziness, especially if they get worse or new symptoms develop.
Call 111 and ask for an ambulance or go to your nearest hospital if you:
have sudden, severe stomach or abdominal pain
have pain when you touch your abdomen
are vomiting blood or a ground coffee-like substance
have bloody or black, sticky poo
collapse, or become pale and clammy
are finding it hard to breathe
can't pee
have any tightness or heaviness in your chest
find the pain spreads up to your chest, neck or shoulder.