Kidney stones are solid crystals formed from the salts in your pee. They can be as small as a grain of sand or as big as a golf ball. They form in your kidney or in the tube that leads from your kidney to your bladder, known as the ureter.

Kidney stones can block the flow of pee and cause infection, kidney damage or even kidney failure. They can vary in size, location (where in the kidneys they are placed), types and colours. You can develop one kidney stone or several at the same time. How they are treated depends on what type of stone you have.

Click the image below to visit the website, scroll down to see the video 'what are kidney stones', then click play.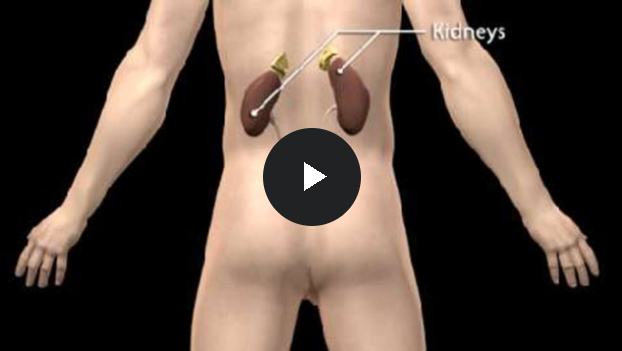 (external link)
(NHS, UK, 2021)
| | |
| --- | --- |
| Types of kidney stones | Description |
| Calcium stones | Calcium stones are the most common type of kidney stone (8 out of 10 stones are calcium stones). There are 2 types of calcium stones: calcium oxalate and calcium phosphate. Calcium oxalate is by far the most common type of calcium stone. |
| Uric acid stones | Uric acid is a waste product that comes from chemical changes in the body. Uric acid crystals do not dissolve well in acidic pee and instead will form a uric acid stone. About 1 of 10 stones is a uric acid stone. |
| Struvite stones | Struvite stones are not a common type of stone. These stones are related to urinary tract infections (UTIs). |
| Cystine stones | Cystine is an amino acid that is in certain foods and is one of the building blocks of protein. Cystinuria (too much cystine in pee) is a rare, inherited metabolic disorder. This type of stone is very rare. |