Your pancreas is a small organ located behind your stomach and below your ribcage. It's a part of your digestive system. It releases enzymes, or digestive juices, into your small intestine to further break down food after it has left your stomach. It also secretes the hormone insulin into your bloodstream to regulate your glucose levels.
Acute pancreatitis happens when, because of inflammation in the pancreas, the enzymes which normally break down food begin to digest things other than food – like the pancreas itself.
The image below shows the location of the pancreas.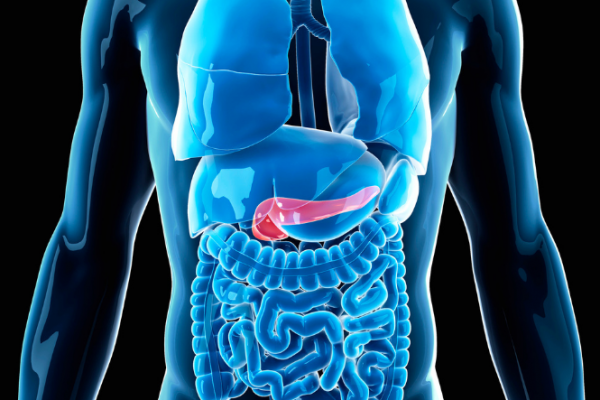 Image credit: Canva
The main symptom of acute pancreatitis is pain in your abdomen (tummy/puku). It usually settles within a few days, but sometimes the pain is severe and the condition can be serious.
Acute pancreatitis is most often linked to gallstones, which cause about half of cases, and heavy alcohol use, which causes about a quarter of cases.
Acute pancreatitis is more common in middle-aged and elderly people, but it can affect people of any age. Men are more likely to develop alcohol-related pancreatitis, while women are more likely to develop it because of gallstones.
While most people can be treated and will recover from acute pancreatitis, 1 in 5 people have a very bad case of it. This can result in life-threatening problems, even the failure of other organs in the body. When such problems develop, there's a high risk of the condition being deadly.
There is also a high chance that people who suffer ongoing bouts of acute pancreatitis will eventually go on to develop chronic pancreatitis.
Contact your healthcare provider immediately if you suddenly develop severe abdominal pain. If this isn't possible, phone 111 or go to your local A&E department.