Diverticulosis
Diverticulosis is a common condition where small pouches or pockets, known as diverticula, form in the wall of your colon or large intestine. These pouches can develop over time, typically as you get older. Your large intestine becomes weaker with age, and the pressure of hard stools (poo) passing through it is thought to cause the bulges to form. They are usually harmless and may not cause any symptoms. Many people with diverticulosis don't even know they have it.
Diverticulitis
Diverticulitis occurs when 1 or more of these diverticula become inflamed or infected. This can cause various symptoms, eg, abdominal pain, fever, and changes in bowel habits. In severe cases, diverticulitis can lead to complications like abscesses (collections of infection), bowel obstructions, perforations (holes in the bowel wall) and bleeding.
The image below shows the location of the colon and diverticula in the colon wall.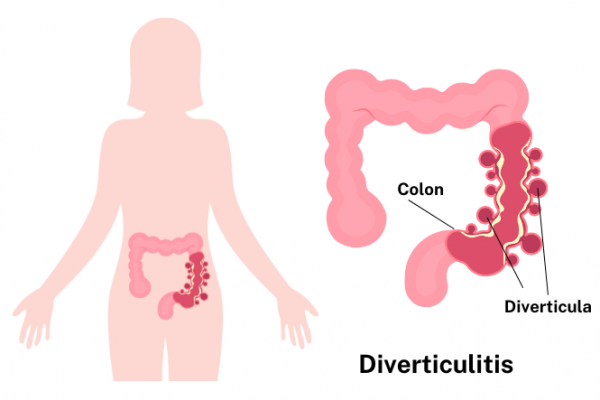 Image credit: Healthify and Canva