See your GP as soon as possible if you feel very sleepy during the day while driving or your job involves operating machinery or aircraft.
If you have OSA, the muscles in your airways relax and block your airways while you are asleep. When this happens, you stop breathing for a short time until your brain wakes you up to begin breathing again. This cycle can repeat hundreds of times a night. Often you don't know this is happening, but it can reduce the quality of your sleep.
You are at higher risk of getting obstructive sleep apnoea if you:
are obese (the most important risk factor)
are a man (men are 2 times more likely to get OSA than women)
aged 40 or over
are Māori or Pasifika
have a family history of OSA
have a small jaw, small throat or nose/throat abnormalities
have a neuromuscular disease
are pregnant or have pre-eclampsia
have hypothyroidism
have big tonsils (most common in young people).
(Capital Otolaryngology Head and Neck Surgeons, US, 2010)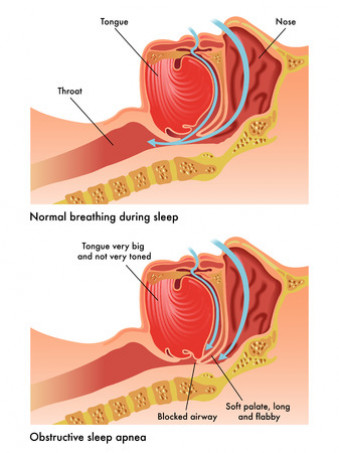 Image credit: 123RF