Managing insomnia
By Just A Thought

Features

Information sheets (PDF) that can be downloaded and printed.
Progress that can be monitored.
Save as you go option which allows the user flexibility to choose how long they engage in the programme at any one time.

Check the course:


(external link)

Country of origin

New Zealand

Clinical review

Read a clinical review of this course.

Security and privacy
Does the course:


Collect medical information? Yes (users have the option to complete mental health screens which are saved and can be sent through to health support person)
Require a login? Yes
Can be password protected? Yes
Have a privacy policy? Yes
Require internet access to use? Yes

Read more safety tips around health apps.
Cost
Free
Advertisements
This course contains no ads.


What does the course do?
Managing insomnia is a 4-part course where you will learn how to improve your sleep using simple and effective strategies based on cognitive behavioural therapy (CBT). The 4 parts of the course are:
Understanding sleep and insomnia: You can learn about the cycle of insomnia and how your thoughts and behaviours can keep maintain problems with sleep. You can also learn how keeping a sleep diary can help you understand your sleep better.
Retraining your body and mind for sleep: This section teaches strategies for reducing your sleep effort and how to retrain your brain to associate going to bed with going to sleep.
Managing thoughts and behaviours that fuel insomnia: In this section you can learn how to use a 'sleep window' to improve the quality of your sleep and skills to help you manage worries and thoughts that keep you up at night.
Key points and keeping up your progress: This section has information about how activity can build your sleep drive, and about relaxation techniques to reduce stress and tension. It also has tips on how to tackle your problems in a practical and helpful way and how to make a plan to keep your sleep on track.
Each part of the course is broken down into 3 segments
Story – reading through the story of a fictional NZ-based character Dave who experiences Insomnia. You will follow his journey towards acknowledgment of his condition and progress through CBT treatment.
Lesson – working through the information that relates to the chosen part's topic. This part is interactive and involves thinking about your personal situation and working through the prescribed activities.
Action Plan – involves reviewing key points and planning activities to practice between lessons.
The course recommends taking a week to complete each part (4 weeks in total), however users are able to go at their own pace and save their progress as they go. Users can also work through the course with the support of a health practitioner who can monitor their progress.
People who are self-motivated (high functioning), have a good level of English literacy, and those who have a relationship with a trusted health practitioner (GP, nurse or other mental health worker) are most likely to benefit from the course.
For the complete course description, go to the course website(external link), or, for a more detailed review, see Reviews.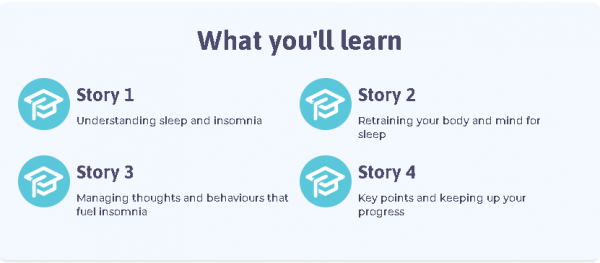 PROS
CONS

✔ Good source of accurate information about sleep and how it becomes disrupted.


✔ Clear treatment process to follow to help the user identify the areas of difficulty they are experiencing with sleep and step-by-step interventions to help deal with the problems causing insomnia and to develop better sleep habits.


✔ Encourages the setting of goals and outlines clear actionable tasks to elicit behavioural change.


✔ Clear definitions and easy to understand language.


✔ Interactive exercises which encourage users to enter personal information which is then saved and summarised at the end of each part.


✔ Effective graphics.


✔ New Zealand based case for users to follow.


✔ Able to complete with the support of a health practitioner and have them directly monitor progress.


✔ Reference to online support groups.


✔ Free.

✘ There's a lot of reading content (clicking through the many slides of the story can feel quite tedious), which may be hard for people who struggle with self-motivation, or have difficulty concentrating for longer periods of time.

✘ Content may feel overwhelming without a health support person to oversee progress and process questions and concerns.
Review details
Date of review: October 2023
Platform reviewed: No app, website suitable both android/apple
Related topics
Sleep apps
CBT apps
Te Kete Haerenga sleep toolkit
Just a Thought courses
NZ Health App Library
Consumer guide: how to choose a health app
Clinicians guide: how to choose a health app
App developer: If you are the developer and would like to provide updated information about this app, please email the app library manager at

hello@healthify.nz
Disclaimer: Healthify's app library is a free consumer service to help you decide whether a health app would be suitable for you. Our review process is independent. We have no relationship with the app developers or companies and no responsibility for the service they provide. This means that if you have an issue with one of the apps we have reviewed, you will need to contact the app developer or company directly.