KYND
By KYND Wellness Limited
Features


Consumer information
Goal setting
Diary and tracking
Videos and newsfeed
Reminders
Graphs and reporting
Library

Get the app:

(external link)

(external link)

Country of origin

Aotearoa New Zealand

Clinical review



Read a clinical review of this app.

Security and privacy
Does the app:


collect medical information? Yes
require a login? Yes
have password protection? Yes
have a privacy policy? Yes
require internet access? Yes

Read more safety tips around health apps.
Cost
Free
Advertisements
This app contains no ads.


What does the app do?
KYND stands for Know Your Numbers Dashboard. The KYND app is divided into 3 main sections relating to physical (body), mental (mind) and social (life) health. Each section has a series of questions which, when completed, provide results using a traffic light display of green (healthy), orange (something is not quite right) and red (risk zone). The app provides people with wellness scores so they can make informed choices and track their wellness journey.

The app has tips and helpful guidance for each area such as information about depression, anxiety, high blood pressure or high cholesterol. There are tips and videos about each of these areas.
For the complete app description, go to Google Play(external link), App Store(external link) or, for a more detailed review, see Reviews.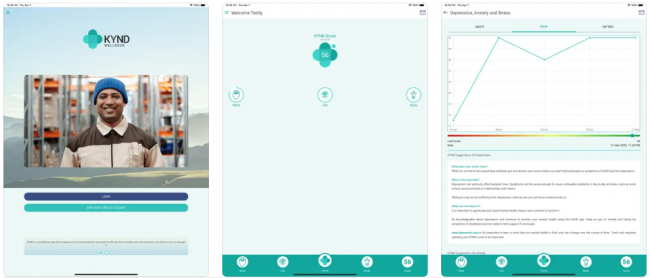 PROS
CONS

✔ People can track their progress and find out if the lifestyle changes they are making are having a positive impact on their health.

✔ The traffic light colours make it easy to identify risks.


✘ The information can't be exported.
Review details
September 2022, Apple, Version: 4.4.18
September 2021, Apple, Version: 3.4.4
Related topics
Stroke risk apps
Mental health and wellbeing apps
Cholesterol topics
Heart disease risk
Consumer guide: how to choose a health app
Clinicians guide: how to choose a health app
NZ health app library
App developer: If you are the developer and would like to provide updated information about this app, please email the app library manager at
hello@healthify.nz
Disclaimer: Healthify's app library is a free consumer service to help you decide whether a health app would be suitable for you. Our review process is independent. We have no relationship with the app developers or companies and no responsibility for the service they provide. This means that if you have an issue with one of the apps we have reviewed, you will need to contact the app developer or company directly.