Stroke Riskometer
By AUT Enterprises Limited
Features


Risk self-assessment
Education and information

Get the app from


(external link)

(external link)

Country of origin

New Zealand

Clinical review





Read a clinical review of this app.

Privacy and security
Does the app:


collect medical information? Yes
require a login? No
have password protection? No
have a privacy policy? Yes
require internet access? Yes (to play videos)

Read more

safety tips around health apps

.

Cost
Free
What does the app do?
The Stroke Riskometer app is for anyone wanting to calculate their risk of stroke and understand and track stroke-related risk factors. This is a simple app that calculates the user's risk of stroke within the next 5 or 10 years based on a number of risk factors such as age, gender, ethnicity, lifestyle and other health factors. Useful features include:
Videos addressing topics such as what is a stroke, what are the causes of stroke, smoking, diet and nutrition.
Goal menu that allows users to set up reminders with notifications for lifestyle changes such as stop smoking, increase physical activity, improve diet, reduce weight, reduce stress and reduce alcohol intake.
The app also provides information about the key signs of a stroke, risk factors that are applicable to the individual and ability to track relevant risk factors (eg, diet and exercise) and the overall risk score. Users are prompted to choose whether they want to allow their data to be used in a research study into stroke risk and prevention. Users can save, track or share their results. For a more detailed description of the app, see App Store(external link) or App website(external link) and for a detailed review, see Reviews.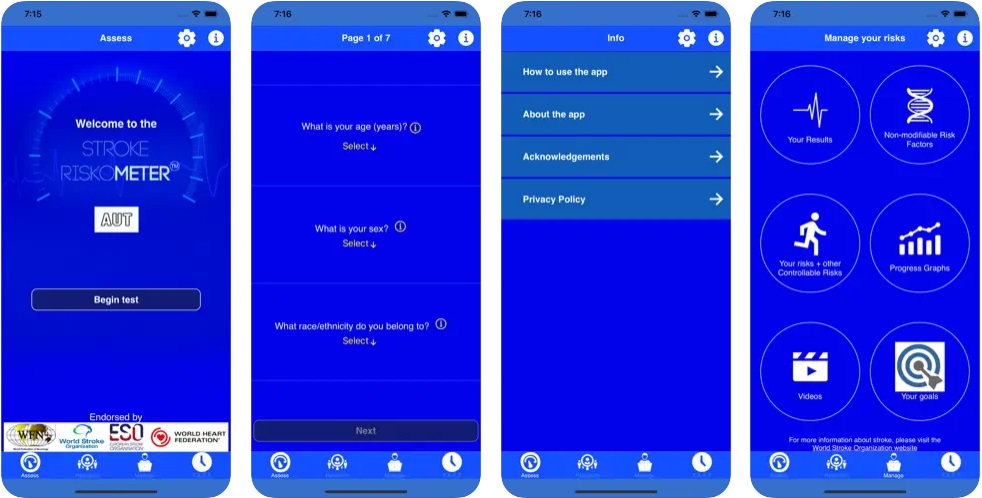 PROS
CONS
✔ Mostly easy to use

✔ Risk factors are separated into lifestyle factors that you can change such as diet, exercise and those risk factors that you cannot change such as age

✔ Gives risk of stroke compared to someone without any contributing risk factors

✔ Useful pictures explaining the signs and symptoms of a stroke

✔ User can click an information icon that explains terms such as what constitutes a serving of fresh fruit and/or vegetables, the definition of regular exercise, etc.



✔ Users can use this information to facilitate targeted discussions with their healthcare providers.

✘ Scroll ruler to choose age, weight, height etc is not easy to use

✘ Reasonable level of personal health knowledge required to enter risk factor information

✘ Would benefit from an explanation of what 'stroke' is. This is in a video format, but companion written information would be good.



✘ Although the app has many language options, Te Reo and Pasifika languages are not available.
Review details
May 2022; Version 2.1.1; Apple iOS
September 2016; Version 3.1; Android
Learn more
Stroke Riskometer website(external link)
Parmar P, Krishnamurthi R, Ikram MA, Hofman A, et al. The Stroke Riskometer(TM) App – validation of a data collection tool and stroke risk predictor(external link) Int J Stroke. 2015 Feb;10(2):231-44.
Dubey D, Amritphale A, Sawhney A, et al. Smart phone applications as a source of information on stroke(external link) J Stroke 2014 May;16(2):86-90.
Related topics
NZ Health App Library
Consumer guide: how to choose a health app
Clinicians guide: how to choose a health app
Stroke | Mate rehu ohotata
App developer: If you are the developer and would like to provide updated information about this app, please email the app library manager at
hello@healthify.nz
Disclaimer: Healthify's app library is a free consumer service to help you decide whether a health app would be suitable for you. Our review process is independent. We have no relationship with the app developers or companies and no responsibility for the service they provide. This means that if you have an issue with one of the apps we have reviewed, you will need to contact the app developer or company directly.