AsthmaMD
By AsthmaMD
Features


Symptom tracking
Trigger recording
Peak flow diary
Action plans
Medication tracking
Medication reminder
Appointment reminder
Reports for sharing

Get the app:






Clinical review




Read a clinical review of this app.

Security and privacy
Does the app:


collect medical information? Yes
require a login? Yes
have password protection? Yes
have a privacy policy? Yes
require internet access? Yes

Read more

safety tips around health apps.
Cost
Free
What does the app do?
This app lets you record your peak flow readings, asthma symptoms, triggers and medicines. You can email your records to others, such as your healthcare provider, family/whānau members or your school. The app allows you to create a 3-stage asthma action plan. The app records data anonymously for research purposes.
For the complete app description, go to the app website(external link), Google Play(external link) or App store(external link) and, for a detailed review, see Reviews.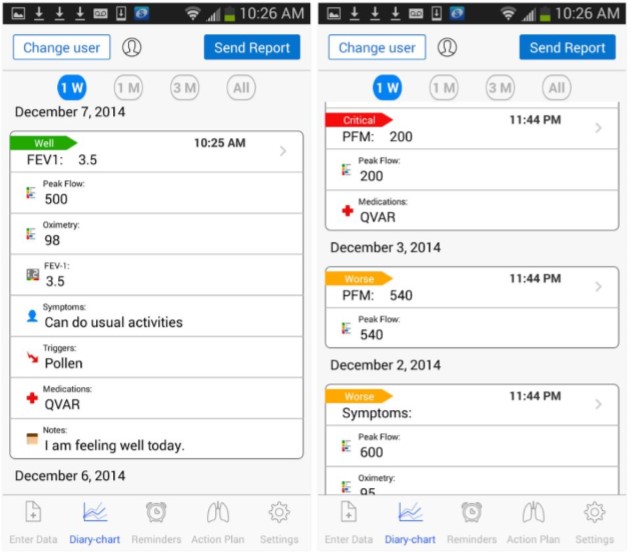 PROS
CONS

✔ Provides a video tutorial.

✔ Symptom and peak flow tracking, and action plan is automatically triggered if enter concerning data.

✔ Medication reminders.

✔ Data syncing, and can have multiple users.

✔ Action plans can be easily followed step by step. There are also auto-customised peak flow ranges for each step.

✔ Data can be exported.

✘ The adult action plan template (NIH action plan) differs from those we use in New Zealand. It uses a 3-stage plan which is somewhat similar to our 4-stage plan but without the oral steroid step. Our 3-stage plan has oral steroids for the yellow stage instead of increasing preventer medication. It also doesn't have a SMART action plan and the plans in general are not particularly customisable. The child action plan seems similar to the New Zealand one. See Resources(external link) Asthma Foundation, NZ.

✘ The peak flow ranges for each step appears to be auto-generated from height and/or best peak flow reading. There does not appear to be a way of manually entering peak flow ranges for each step.

✘ App can be troubling to navigate, eg, adding and removing medications involves editing the whole action plan.

✘ Could not see any information on how to use a spacer.

✘ Using the app is not entirely intuitive (eg, holding your phone vertically and horizontally gives you different features for different sections). Watching the video tutorial is recommended.

✘ No asthma control test.

✘ List of medications is US-based and may be confusing to New Zealand users.
Review details
February 2021, Version 3.35, Apple

March 2017, Version 1.7.10.5, Android
Learn more
Asthma in adults
Asthma in children
COPD
Related topics
Asthma apps
Asthma in adults
NZ Health App Library
Consumer guide: how to choose a health app
Clinicians guide: how to choose a health app
References
App developer: If you are the developer and would like to provide updated information about this app, please email the app library manager at
hello@healthify.nz
Disclaimer: Healthify's app library is a free consumer service to help you decide whether a health app would be suitable for you. Our review process is independent. We have no relationship with the app developers or companies and no responsibility for the service they provide. This means that if you have an issue with one of the apps we have reviewed, you will need to contact the app developer or company directly.