Video: What is asthma?
This video is about your lungs and how asthma affects them. It may take a few moments to load.
Asthma is a common breathing condition. It affects the small and medium-sized airways (bronchi) in the lungs.
In asthma, your child's airways are inflamed and there is:
swelling of the airway wall
an increase in mucus or phlegm
tightening of the muscle in the airway wall (see the image below).
These changes cause narrowing of your child's airways. This leads to wheezing, cough and difficulty with breathing.
Wheezing is a musical, whistling sound that children make, usually when breathing out. It can also happen when they breathe in. The sound comes from the chest, not from the nose or throat.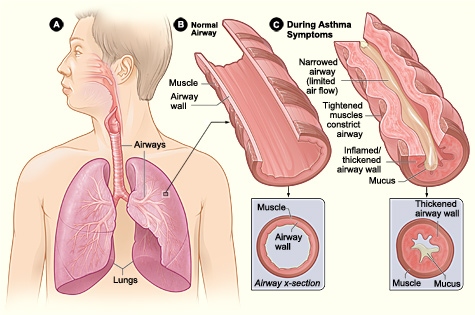 Image credit: Wikimedia Commons