Meningococcal disease can lead to serious infections including meningitis (inflammation of the brain membranes) and sepsis (blood poisoning or septicaemia).

These illnesses can develop quickly and can cause serious disability or even death.

Common symptoms of meningococcal disease include sudden fever, a high fever, headache, sleepiness, joint and muscle pains. If you have these symptoms, get urgent medical attention.
Those most at risk are babies and young children under 5 years, teenagers and young adults, people with weakened immune systems or living in shared accommodation or overcrowded housing.
Meningococcal disease is treated with antibiotics – it cannot be treated at home.
Vaccination against meningococcal disease protects against most, but not all types of meningococcal disease.
If you or someone in your household is sick with one or more of the symptoms below, don't wait, take action immediately. Ring a doctor, medical or after-hours centre or the free Healthline number (0800 611 116) right away, day or night. If it is an emergency, call 111.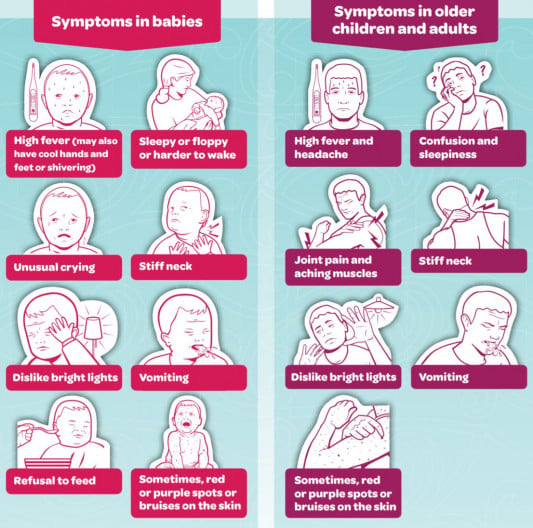 Image credit Meningococcal disease(external link) Health Promotion Agency, NZ, 2013
What is meningococcal disease?
Meninogococcal disease is caused by meningococcal bacteria. There are several different types of meningococcal bacteria including A, B, C, Y and W. Most cases are caused by the B type. W type is the second most common and is the cause of the outbreak in Northland 2018/2019.
Usually, the bacteria sit harmlessly in the back of healthy people's noses and throats and are not passed on to others. The illness happens when these bacteria enter the bloodstream to cause septicaemia (infection in your blood, also known as bacteremia) or meningitis (inflammation of the membrane covering your brain). Sometimes severe infection can also occur in your joints, throat, lungs or intestines.
Watch this video by clicking on the image.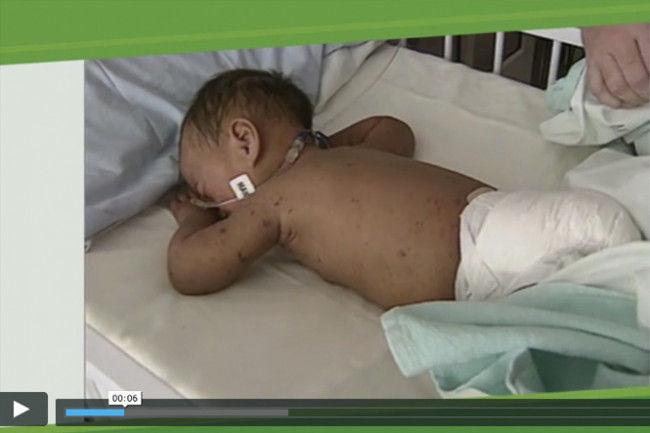 (external link)
(Immunisation Advisory Centre, NZ, 2017)