Infection with the human immunodeficiency virus (HIV) causes damage to your immune system, affecting your ability to fight disease. Without treatment, some people with HIV develop the potentially life-threatening condition, acquired immunodeficiency syndrome (AIDS).
HIV is the name of the virus that causes an infection that damages your immune system and weakens your ability to fight infection and disease.
Left untreated, HIV can cause AIDS – the most advanced stage of HIV infection. This means that you can be infected with HIV (a virus) without having AIDS (an illness).
A person with AIDS has a severe deficiency of their immune system, which increases their risk of severe infections.
HIV is a sexually transmitted infection and can also be spread by sharing needles.
While there is no cure for HIV, it can be controlled with a combination of medicines, known as antiretroviral therapy (ART). Most people living with HIV who are on ART will never develop AIDS.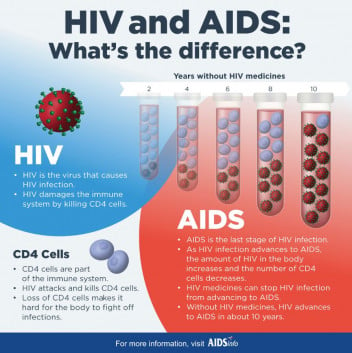 (external link)
Image credit: AIDS Info