Anencephaly is when the neural tube that forms the brain and spinal cord doesn't fully close at the top while the fetus is growing. It happens during the first 24 days of a pregnancy and is known as a neural tube defect (NTD). The most common types of NTDs are spina bifida and anencephaly.
With anencephaly, the brain doesn't fully develop – there will be no forebrain (front part) and no cerebrum (the coordinating and thinking part). Often the rest of the brain isn't covered over with skull and skin. Without a fully formed brain, the baby dies before or shortly after birth – within hours or days.
In Aotearoa New Zealand, 5 to 6 babies in every 10,000 pregnancies are born with anencephaly, although many more are diagnosed with this condition during pregnancy. The number of pregnancies affected by NTDs is decreasing because there is more awareness of the importance of folic acid for babies' development (see below).
The image below shows how the front and top of the baby's brain hasn't developed and the top of the head has no bone or skin covering.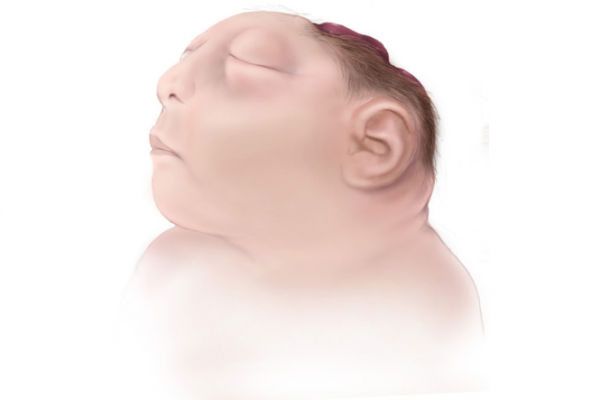 Image credit: Centers for Disease Control and Prevention, National Center on Birth Defects and Developments; Disabilities, Wikimedia Commons