Folate is a vitamin found naturally in leafy green vegetables, citrus fruits, wholemeal bread, yeast, liver and legumes (peas, beans, lentils, chickpeas, etc.) It is best to eat fresh fruit and vegetables as cooking and prolonged storage destroys the folate.
Folic acid is the man-made (synthetic) form of folate used in supplements and fortified foods and drinks. It is easier for your body to absorb and use folic acid than naturally occurring folate in food.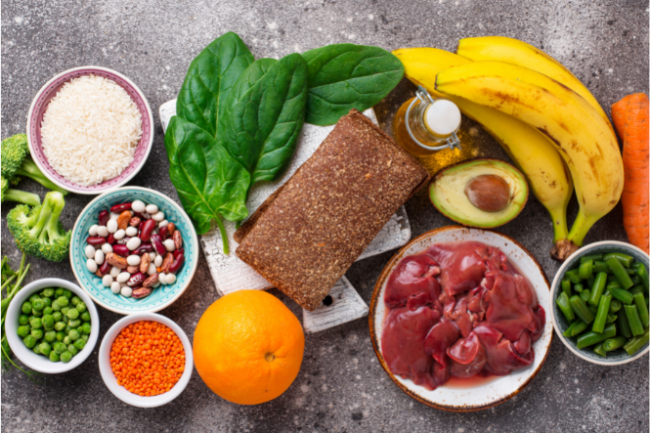 Image credit: Canva
Foods naturally high in folate or fortified with folic acid are:
raw fruit, well-washed or peeled (citrus is especially high in folate)
bread and cereals, especially wholegrain
well-washed, fresh, raw or lightly cooked vegetables, especially leafy green vegetables such as spinach, plus asparagus and corn
cooked dried beans, peas and lentils
yeast extracts, eg, Marmite and Vegemite
freshly cooked liver and kidney (no more than 1 serving a week)
folic acid-fortified breakfast cereals, bread or fruit juice.
Foods fortified with folic acid should state this on their ingredients list and/or nutrition information panel (NIP). The food label will list any vitamins added such as folic acid. The total amount of folate in the NIP includes the natural folate as well as the amount of folic acid that has been added.