Sprout Pregnancy
By Med ART Studios
Features


Get the app:






Country of origin
USA, but the app is available in an 'Australia / New Zealand' version
Clinical review




Read a clinical review of this app.

Security and privacy
Does the app:


collect medical information? No (usage data only collected, this is not linked to you)
require a login? No
have password protection? No
have a privacy policy? Yes
require internet access? No

Read more safety tips around health apps.
Cost
Two week free trial and then $4.99. There is a free version but this apparently has minimal information.
Advertisements
This app contains ads, which may vary from user to user.

What does the app do?
The Sprout pregnancy app allows you to keep track of where you are at in your pregnancy. Users enter their due date and the app automatically tracks the pregnancy week by week. Each time the app is accessed, the screen shows a 3D image of a developing baby (foetus) at the appropriate gestational age along with a pregnancy timeline.

The app also provides information on the pregnancy investigations and tests that are done at various times during pregnancy, and antenatal care. It provides advice on diet and the symptoms people may be experiencing at different stages of pregnancy. There are also sections on a birth plan, hospital bag planning, a kick counter, a contraction timer and medication tracker. There is a space for a personal journal and you can customise it to send you reminders.
For the complete app description, go to the app website(external link), Google Play(external link), App Store(external link) or, for a more detailed review, see Reviews.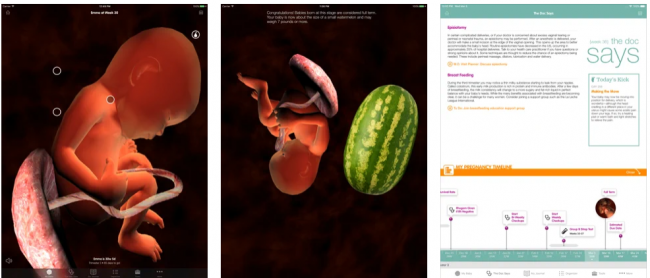 PROS
CONS

✔ The app is nicely set out and has good graphics.

✔ Available in multiple languages.

✔ Easy to use.

✘ Some aspects are less consistent with maternity care in Aotearoa. The app assumes a hospital birth.
Review details
Date of review: September 2021
Platform reviewed: Apple
Version: 11.0
Related topics
Pregnancy apps
Pregnancy topics
Consumer guide: how to choose a health app
Clinicians guide: how to choose a health app
NZ health app library
App developer: If you are the developer and would like to provide updated information about this app, please email the app library manager at
hello@healthify.nz
Disclaimer: Healthify's app library is a free consumer service to help you decide whether a health app would be suitable for you. Our review process is independent. We have no relationship with the app developers or companies and no responsibility for the service they provide. This means that if you have an issue with one of the apps we have reviewed, you will need to contact the app developer or company directly.