SnoreLab
By Reviva Softworks Ltd
Features


Snore recording
Calculates snore score
Lifestyle tracking

Get the app from


Clinical review





Read a clinical review of this app.

Cost
Free
What does the app do?
The app enables the user to record and track their snoring. By placing your mobile device at your bedside, it records your snoring. For each sleep session the app calculates a snore score, which is a measure of snoring intensity, and provides a report showing when and how loudly you snored, with a selection of audio samples.

The app is helpful for people with snoring problems to assess their snoring patterns. It may be useful for assessing the impact of snoring remedies or other lifestyle changes (eg, reduction in alcohol intake, weight loss, medications) on snoring.

The free version of the app has basic features and in-app advertising. The user is encouraged to upgrade to the paid version ($8.49) to access additional features, including data export and an ad-free option.

Note: The app is not suitable if there are 2 snorers in the room. For a more detailed description of the app, see Google Play(external link) or iTunes(external link) and, for a detailed review, see Reviews.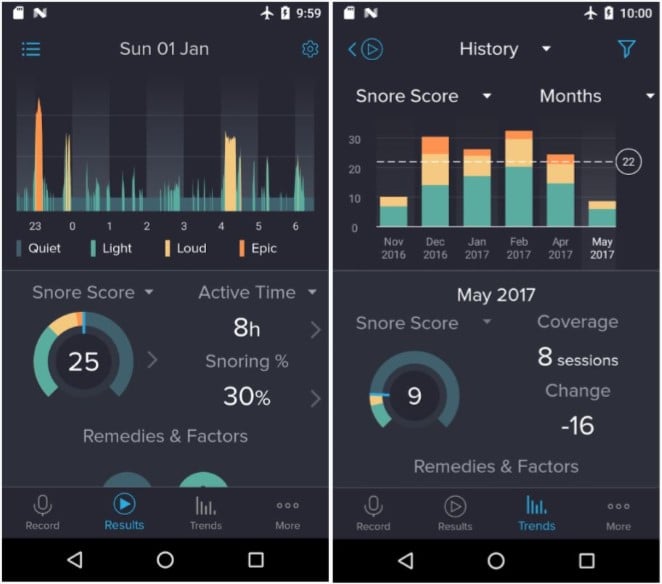 PROS
CONS
✔ Monitor snoring while trialing different remedies.

✔ Intuitive and functional user design.

✔ Weight tracking but this is disabled by default.
✘ There is no information describing how the snore score is calculated.

✘ The free version has limited customisable features.

✘ The user is encouraged to upgrade to the paid version ($8.49) to access additional features.

✘ No daytime sleepiness quiz or advice about when to see a health professional.

✘ Has many non-evidence-based remedies.
Privacy and security
The app doesn't collect any personal data. However, anonymous usage of the app is tracked in order to improve the app features and to understand the purpose behind the usage of the app. Read more about things you can do to improve your safety and security when using apps.
Review details
February 2017, Version 1.0.20, Android
March 2020, Android
Related topics
Consumer guide: how to choose a health app
Clinicians guide: how to choose a health app
Sleep apps
NZ Health App Library
Obstructive sleep apnoea | Mate hoto hau
Common sleep problems
Sleep tips
References
The following references relate to articles about apps for snoring:
Camacho M, Robertson M, Abdullatif J, et al. Smartphone apps for snoring.

(external link)

J Laryngol Otol. 2015 Oct;129(10):974-9.
Ko PR, Kientz JA, Choe EK, et al. Consumer sleep technologies: a review of the landscape.

(external link)

J Clin Sleep Med. 2015 Dec 15;11(12):1455-61.
Sands SA, Owens RL. Does my bed partner have OSA? There's an app for that!

(external link)

J Clin Sleep Med. 2014 Jan 15;10(1:79-80).
App developer: If you are the developer and would like to provide updated information about this app, please email the app library manager at
hello@healthify.nz
Disclaimer: Healthify's app library is a free consumer service to help you decide whether a health app would be suitable for you. Our review process is independent. We have no relationship with the app developers or companies and no responsibility for the service they provide. This means that if you have an issue with one of the apps we have reviewed, you will need to contact the app developer or company directly.