Sleepio
By Big Health Ltd

Sleep assessment questionnaire
Goal setting
Build an individualised programme
CBT lessons

At the time of writing, the app is not freely available to people living in New Zealand. Instead, the program is only available through a research programme which you can apply for on the website(external link). The programme authors advised us that this can take up to 8 weeks to get an invitation. It is freely available for people who sign up with a London or Thames Valley postcode.

Get the app:


(external link)

(external link)

Clinical review




Read a clinical review of this app.

Security and privacy
Does the app:


collect medical information: Yes
require a login: Yes
have a password: Yes
have a privacy policy: Yes

(external link)

requires internet access to use: Yes

Read more safety tips around health apps.
Cost

Free basic version available
Subscription of $800/year for more features
Professor Colin Espie introduces Sleepio
(Big Health, 2013)
What does the Sleepio programme do?
Sleepio is an interactive sleep improvement programme, to help people with insomnia (for people who have difficulty getting to sleep or sleeping through the night). The programme is based on cognitive behavioural therapy (CBT). You learn techniques and behavioural strategies to help reset sleeping patterns naturally, without relying on sleeping pills. You are encouraged to complete the Sleepio course online at a time and pace that suits you.

Users of the free version can use the sleep diary function. Paid subscribers have access to brief sleep interventions if unable to fall asleep and a 6-week video CBT programme.

A summary of contents:
Week 1: Learn about causes of poor sleep and goal setting
Week 2: Address lifestyle barriers to sleep and improving the sleep environment
Week 3: Boost sleep efficiency through sleep restriction
Week 4: Learn strategies to clear mind for sleep
Week 5: Learn further strategies to improve sleep based on user's specific issues and progress
Week 6: Maintaining progress
For the complete programme description, go to the website(external link).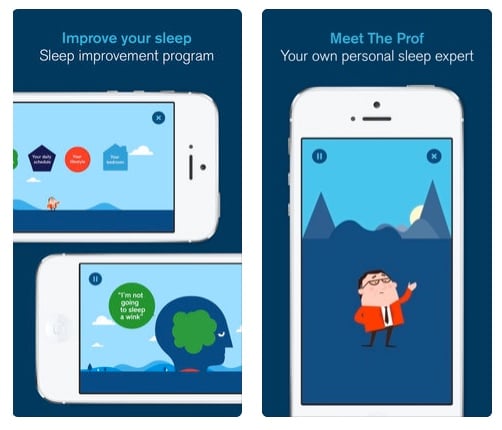 PROS
CONS

✔ Evidence-based therapy delivered in an easy-to-understand format.

✔ Interactive video based sessions that you can watch in your own time.

✔ The rationale behind the suggested strategies are well explained.


✘ The paid subscription is costly.
Review details
May 2021: Version: 1.8.1 4-2606, Apple iOS
May 2019:

Version: 1.8.10,

Apple iOS
Resources
Healthy sleep hygiene [PDF, 306 KB] Auckland DHB, NZ
Related topics
Consumer guide: how to choose a health app
Clinicians guide: how to choose a health app
NZ health app library
Sleep apps
Sleep topics
References
App developer: If you are the developer and would like to provide updated information about this app, please email the app library manager at
hello@healthify.nz
Disclaimer: Healthify's app library is a free consumer service to help you decide whether a health app would be suitable for you. Our review process is independent. We have no relationship with the app developers or companies and no responsibility for the service they provide. This means that if you have an issue with one of the apps we have reviewed, you will need to contact the app developer or company directly.