Sanvello
By Sanvello Health Inc
Features


Goal setting
Wellness tools such as mood and health habit tracking

Numerous relaxation and coping activities

Get the app from


(external link)

(external link)

Clinical review

Free version:




Paid version:



Read a clinical review of this app.


Cost
Free (basic); paid upgrade



Learn more about

app charges
What does the app do?
This app has a variety of tools to help improve your mental health and well being such as goal setting, meditation activities, health habit tracking, thought analysis, mood tracking and a community for peer support. The app sends you a daily notification asking how you're feeling, allows you to monitor your mood throughout the day and suggests activities based on your current mood and overall goal. It has weekly features such as podcasts. The free version has limited functionality and paid upgrade to the premium version provides access to additional features. For a more detailed description of the app, see iTunes(external link) and for a detailed review, see Reviews.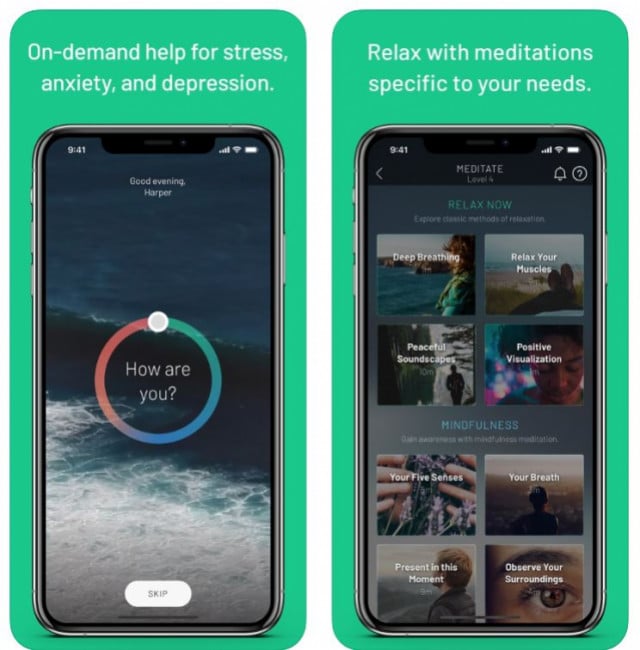 PROS
CONS

✔ Uses many techniques from cognitive behavioural therapy with ample explanation and structure. Has input from psychologists.

✔ Multiple guided meditations for general mindfulness and for specific situations.

✔ Encourages self-monitoring of mood and health goals such as sleep and exercise.

✔ Reminders and feedback.

✔ Tools are fairly customisable, and it recommends activities based on your goals such as decreasing anxiety, live healthier, feel happier etc.

✔ Community section with a discussion board and chat groups but I couldn't find evidence that these were monitored.

✔ Encourages recording of thoughts, feeling and behaviours.

✔ Has a learning section called "guided paths" which assigns an audio lesson and assigned activity each day. There are 7n days available with the free version, and another 28 with the paid version.

✔ Paid version has extensive extra tools such as more cognitive behavioural therapy tools, journaling and the extended guided paths.


✘ Busy home screen - its not immediately intuitive or simple to use

✘ Has a lot of functionality but could feel overwhelming

✘ The free version is quite limited

✘ Community board doesn't seem to be monitored

✘ No studies done on the app's effectiveness



Privacy and security
The app is password protected. It also has links to the terms of service and its privacy policy which gives information on the types of information collected and details on how the information is used. Read more about things you can do to improve your safety and security when using apps.
Review details
Date of review: April 2018
Platform reviewed: Android
Version: 6.0.2
Download size: 61.34 MB
Updated on: 26/03/2018
Related topics
Anxiety | Mate māharahara
Mindfulness
Mental health and wellbeing apps overview
NZ Health App Library
Consumer guide: how to choose a health app
Clinicians guide: how to choose a health app
App developer: If you are the developer and would like to provide updated information about this app, please email the app library manager at
hello@healthify.nz
Disclaimer: Healthify's app library is a free consumer service to help you decide whether a health app would be suitable for you. Our review process is independent. We have no relationship with the app developers or companies and no responsibility for the service they provide. This means that if you have an issue with one of the apps we have reviewed, you will need to contact the app developer or company directly.