Safe Sleeping
By SIDS and Kids New Zealand
Features


Education and information
Translations in a few languages
New Zealand app

Get the app from


(external link)

Country of origin

New Zealand

Clinical review



Cost
Free
What does the app do?
The app has information on how to sleep your baby safely. Users can select their preferred language from English, Maori, Chinese, Hindi, Vietnamese and Arabic. The home page has sections on:
safe sleeping: has 6 tips to sleep baby safely and reduce the risk of sudden expected death in infancy
safe wrapping: has guidelines for safe wrapping of young babies
tummy time: describes the benefits of supervised playtime
FAQs: frequently asked questions about

sudden expected death in infancy.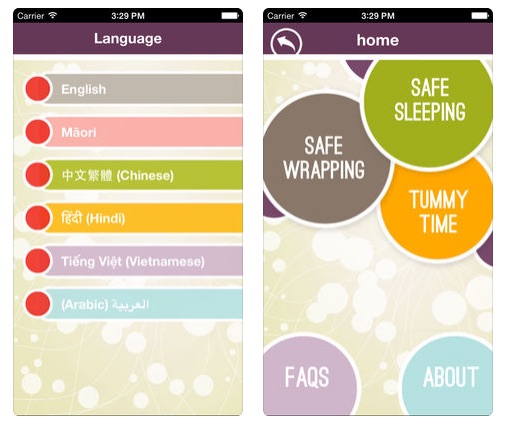 PROS
CONS

✔ Concise information on sudden unexplained infant death syndrome (SUDI)

✔ Available in multiple languages such as English, Maori, Chinese, Hindi, Vietnamese and Arabic


✘ Information is not comprehensive

Lost opportunity to promote vaccination. Vaccination is associated with a reduced risk of SIDS
No discussion around the role of pacifiers and their association with a reduced SIDS risk. If one does decide to use a pacifier and they are breastfeeding, consider delaying pacifier use until one month of age to make sure breastfeeding is well established
No information about devices marketed to reduce the risk of SIDS such as smartphone integrated sleep socks. These are very inaccurate and there is no evidence they are safe or reduce the risk of SIDS and so are not recommended.

✘ Incomplete explanations, guidance and links to support for the prevention strategies. For example, the breastfeeding page simply has a picture of breastfeeding with a tick.

✘ Simply an information leaflet in app form with no multi-media content or interactivity beyond navigation. There are NZ SIDS videos which are not used.

✘ Choose the Well Child app instead which has a SIDS section and includes videos. Read more about the Well Child app.
Privacy and security
The app doesn't appear to have a privacy policy, but it does not collect any personal information. Read more about things you can do to improve your safety and security when using apps.
Review details
Date of review: February 2019
Platform reviewed: Android
Version: 1.1
Download size: 23 MB
Updated on: March 2016
Reviews
Clinical review

Reviewer: Jeremy Steinberg, GP, FRNZCGP
Date of review: February 2019
Comments: This app is little more than an information leaflet in app form. There is the equivalent of around one page of written content. Although the information was accurate, it was incomplete and didn't include videos which would be well suited to this style of app. Another New Zealand app called Well Child(external link) has comprehensive information about many areas of child health and includes a written and video section on SIDS (although it also isn't completely comprehensive). This app therefore appears to be unnecessary.
Safety concerns: None.
New Zealand relevance: Created for a New Zealand audience.
App developer: If you are the developer and would like to provide updated information about this app, please email the app library manager at
hello@healthify.nz
Disclaimer: Healthify's app library is a free consumer service to help you decide whether a health app would be suitable for you. Our review process is independent. We have no relationship with the app developers or companies and no responsibility for the service they provide. This means that if you have an issue with one of the apps we have reviewed, you will need to contact the app developer or company directly.