Tuku Iho
By Kiwa Digital
Features


Narration in te reo Māori and English
Swipe to read or tap to hear key words to learn  pronunciation
Video interviews
Accessible  bi-lingual language and navigation

Get the app:


Country of origin
New Zealand
Security and privacy
Does the app:


collect medical information? No
require a login? No
have password protection? No
have a privacy policy? Yes
require internet access? Yes

Read more safety tips around health apps.
Cost
Free
Advertisements
This app contains no ads.


What does the app do?
Tuku Iho is a bi-lingual resource, in te reo Māori and English, for whānau hapū, māmā hapū and māmā hou that shares intergenerational knowledge in maternal and child wellbeing.

The app opens with a mihi followed by information on being hapū and preparing for pēpi.
The 'being hapū' section includes information about the changes to your body, including the mental and emotional changes, advice about nutrition and how to prepare for birth.
Other sections of the app have information on what to expect in the first six weeks, both for māmā and pēpi, covering topics like breastfeeding, baby blues, postnatal depression, safe sleep and pēpi's sleep routine.
Apart from reading the information as text, the app also provides narration, in both te reo Māori and English.
For the complete app description, go to the app website(external link), Google Play(external link), App Store(external link) or, for a more detailed review, see Reviews.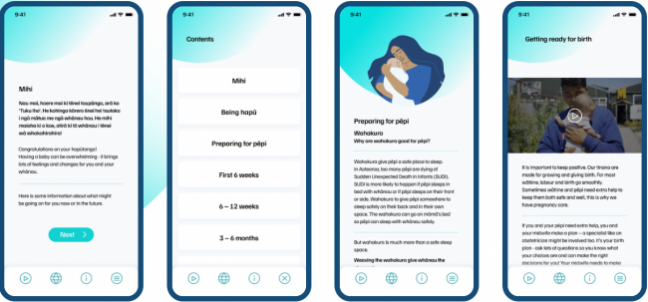 Review details
Date of review: December 2022
Platform reviewed: Android
Related topics
Pregnancy apps
Breastfeeding apps
NZ Health App Library
Consumer guide: how to choose a health app
Clinicians guide: how to choose a health app
App developer: If you are the developer and would like to provide updated information about this app, please email the app library manager at
hello@healthify.nz
Disclaimer: Healthify's app library is a free consumer service to help you decide whether a health app would be suitable for you. Our review process is independent. We have no relationship with the app developers or companies and no responsibility for the service they provide. This means that if you have an issue with one of the apps we have reviewed, you will need to contact the app developer or company directly.