Obsessive Compulsive Disorder (OCD) course
By Just A Thought

Features

Information sheets (PDF) that can be downloaded and printed.
Progress that can be monitored.
Save as you go option which allows the user flexibility to choose how long then engage in the programme at any one time.

Check the course:


(external link)

Country of origin

New Zealand

Clinical review

Read a clinical review of this app.

Security and privacy
Does the app:


collect medical information? Yes – if chosen can complete mental health screens which are saved and can be sent through to a health support person.
require a login? Yes.
have password protection? Yes.
have a privacy policy? Yes.
require internet access? Yes.

Read more safety tips around health apps.
Cost
Free
Advertisements
This app contains no ads.


What does the app do?
The obsessive compulsive disorder (OCD) course in an online course that teaches proven and effective strategies for tackling OCD using cognitive behavioural therapy (CBT) techniques.
The course follows the story of 2 New Zealand based fictional characters who experience the symptoms of OCD.
Throughout the course, the stories will help the user learn about their own symptoms and the steps required to help them recover.
Each story takes about 20 minutes to read and will generally require the user to take 3–4 hours in between each part to complete the suggested practice activities.
Users are able to work through the course with the support of a healthcare provider and their progress can be monitored if they so choose.
There are 6 parts to the course, which focus on: understanding a diagnosis of OCD, managing OCD worries and behaviour, OCD exposure steps, maintaining progress and preventing relapse. The course recommends taking a week to complete each part (6 weeks in total), however users are able to go at their own pace and save their progress as they go.
The course provides a good source of accurate information about OCD and could be a useful additional to support the treatment of OCD. It teaches useful techniques to practice in the tools and tips section and also provides the opportunity to connect with other people who are going through similar difficulties with OCD.
For the complete app description, go to the app website(external link) or, for a more detailed review, see Reviews.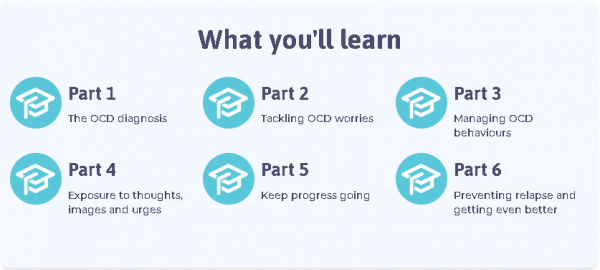 PROS
CONS

✔ Good source of accurate information about OCD and a clear evidence-based treatment approach.


✔ Clear definitions and easy to understand language.


✔ Effective graphics.


✔ Uses New Zealand based case examples for users to identify with and provide a more personalised experience.


✔ Able to complete with the support of a health practitioner and have them directly monitor your progress.


✔ Reference to online support groups.

✔ Free.

✘ Very little variety. Completely reading based – no audio or video content.

✘ There's a lot of reading content, which may be hard for people who struggle with self-motivation, or difficulty concentrating for longer periods of time.

✘ Content may feel overwhelming without a health support person to oversee the progress.
Review details
Date of review: August 2023
Platform reviewed: Website suitable both android/apple
Related topics
Mental health and wellbeing apps
Anxiety topics
Just a Thought courses
CBT apps
NZ Health App Library
Consumer guide: how to choose a health app
Clinicians guide: how to choose a health app
App developer: If you are the developer and would like to provide updated information about this app, please email the app library manager at
hello@healthify.nz
Disclaimer: Healthify's app library is a free consumer service to help you decide whether a health app would be suitable for you. Our review process is independent. We have no relationship with the app developers or companies and no responsibility for the service they provide. This means that if you have an issue with one of the apps we have reviewed, you will need to contact the app developer or company directly.