AVAX Blood Pressure
By AVAX Health
Features


Diary
Goal setting
Tracking
Graphs and reporting
Reminders

Get the app:


Country of origin
Germany
Clinical review




Read a clinical review of this app.

Security and privacy
Does the app:


collect medical information? Yes (but its not linked to your identity)
require a login? No
have password protection? Yes
have a privacy policy? Yes
require internet access? Yes

Read more safety tips around health apps.
Cost
Free – Basic version
Paid upgrade – $3.99/month or $32.99/year


What does the app do?
The AVAX Blood Pressure app is a blood pressure diary app. It allows you to record, chart and track your blood pressure, weight and medication. You can export your history, create PDF reports and set medicine reminders. The premium version gives extra options, including target setting and diabetes (blood glucose) tracking.
For the complete app description, go to the app website(external link), Google Play(external link), App Store(external link) or, for a more detailed review, see Reviews.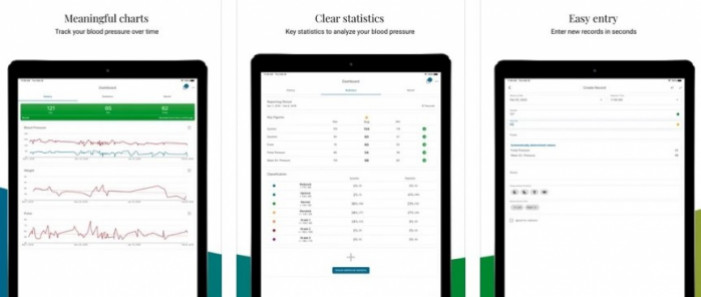 PROS
CONS

✔ Comprehensive way to record and chart blood pressure and related health data, yet simple to use.

✔ Data reports are clearly presented and easily printed or saved to your device.

✔ Basic (free) version would be good enough for most people.

✔ Option to use without creating an account if you prefer to use anonymously.

✔ No ads, no permissions on your phone or access to personal information is required, and no third party data sharing.


✘ You would need to pay for the premium version if you wanted to log more than one medicine.

✘ PDF reports cannot be directly emailed from the app, though they can be easily saved or printed, and .csv or .xlsx exports can be emailed directly.
Review details
Date of review: April 2021
Platform reviewed: Apple iOS
Version: 3.3.0+162
Related topics
Blood pressure apps
Blood pressure | Pēhanga toto
NZ Health App Library
Consumer guide: how to choose a health app
Clinicians guide: how to choose a health app
App developer: If you are the developer and would like to provide updated information about this app, please email the app library manager at
hello@healthify.nz
Disclaimer: Healthify's app library is a free consumer service to help you decide whether a health app would be suitable for you. Our review process is independent. We have no relationship with the app developers or companies and no responsibility for the service they provide. This means that if you have an issue with one of the apps we have reviewed, you will need to contact the app developer or company directly.