Āio
By Turuki Health Care Charitable Trust
Features


Get the app:


Country of origin

Aotearoa New Zealand

Security and privacy
Does the app:


collect medical information? No
require a login? No
have password protection? No
have a privacy policy? Yes
require internet access? No

Read more safety tips around health apps.
Cost

Free – basic (comprises 6 videos)
Paid upgrade to access more videos (NZD 12.99 per month)

Advertisements
This app contains advertisements.


What does the app do?
Āio is a meditation app based on Māori teachings. The free version of the app comprises 6 basic videos.
Takutaku (learnt first and performed at the start and end of every session) 3 mins
Paerangi (sensory system engagement, performed in every session) 5 mins
Taurite (session focusing on stillness or balance) 17 mins
Tuku (session focusing on release) 17 mins
Hakiotanga (session focusing on reset or new beginnings) 19mins
Irohanga (session focusing on contemplation and manifestation) 19 mins
To access more videos a monthly subscription is required. For the complete app description, go to the app website,(external link) Google Play,(external link) or App Store(external link).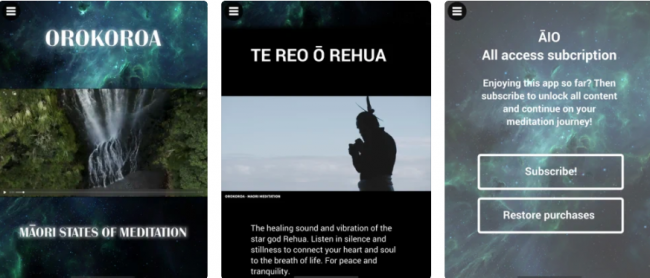 Related topics
Mindfulness
New Zealand-based apps
Meditation and mindfulness apps
Breathing apps
Consumer guide: how to choose a health app
Clinicians guide: how to choose a health app
App library
App developer: If you are the developer and would like to provide updated information about this app, please email the app library manager at
hello@healthify.nz
Disclaimer: Healthify's app library is a free consumer service to help you decide whether a health app would be suitable for you. Our review process is independent. We have no relationship with the app developers or companies and no responsibility for the service they provide. This means that if you have an issue with one of the apps we have reviewed, you will need to contact the app developer or company directly.