Ipratropium and salbutamol are mixed together in a puffer or inhaler.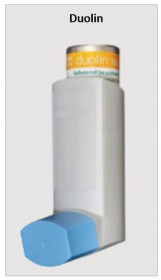 The combination is used to treat conditions where breathing is a problem, such as COPD, chronic bronchitis and emphysema. They work by relaxing and opening up the air passages, making breathing easier and improving shortness of breath, chest tightness and wheezing.

Ipratropium and salbutamol belong to a group of medicines known as bronchodilators or relievers (it is called a reliever medicine because it quickly relieves your breathing problems).

Using an inhaler device enables the medicine to go straight into your airways when you breathe in. This means that your airways and lungs are treated, but very little of the medicine gets into the rest of your body.

In New Zealand ipratropium and salbutamol is available as an inhaler and nebulising solution. These are known by the brand name Duolin®. Nebulisers are used when using an inhaler is not suitable. The information on this page is about ipratropium and salbutamol inhaler. Read more about nebulisers.