Cellulitis generally only affects one side of the body. The area of skin affected by cellulitis becomes:
red
painful or tender to touch
hot
swollen.
It most often affects the lower legs but can occur on any part of your body including your face. Blisters may form and the affected area may grow larger. This can happen quite quickly, over hours to a few days.
You may also feel unwell and feverish with a high temperature and shivers. This may start a few hours or a day before the skin changes become visible.
The image below shows cellulitis on a leg. The black marking is where the area of redness has been outlined to check if it gets larger over time. You can read about this below.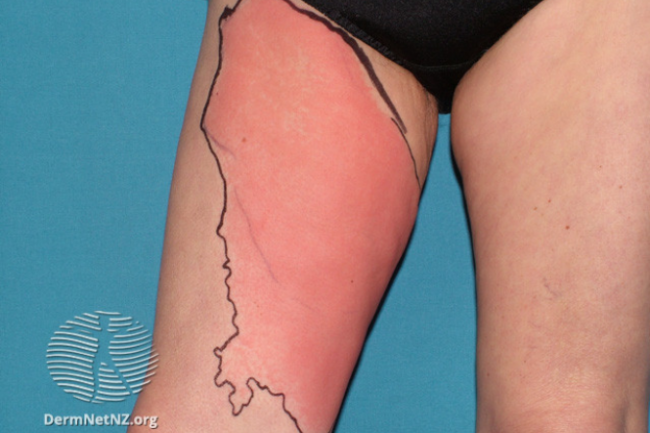 Image credit: DermNet NZ
When to seek medical help
See your healthcare provider (preferably today) if you have the symptoms of cellulitis.
Ask for an urgent appointment (straight away) if:
your face or the area around your eye is affected
the redness and swelling is spreading rapidly and/or is extremely painful
you were bitten by an animal or human
you develop a fever or flu-like symptoms
you have diabetes or a weakened immune system, eg, because of chemotherapy
a young child or older person may have cellulitis.
Sometimes, bacteria from cellulitis can spread into your blood stream. This is called septicaemia, and can trigger sepsis, which is a medical emergency. Early treatment with antibiotics can stop the infection becoming more serious.