Your.MD app
By Your.MD
Features


Symptom checker
Health A–Z library
Wellbeing tracker
Self-assessments
Quizzes

Get the app from


(external link)

(external link)

Clinical review




Read a clinical review of this app.

Security and privacy
Does the app:


collect medical information? Yes
require a login? No
have password protection? No
have a privacy policy? Yes
require internet access? Yes

Read more safety tips around health apps
Cost
Free
What does the app do?
The Your.MD app uses data you input to provide automated advice and guidance about your health. It has 4 main sections:
Self-care checker: A chatbot to help you decide if you should see a doctor, or if you can self-care. You can check your symptoms, do a self-assessment or ask a question.
Health A-Z: A directory of information about hundreds of conditions and health topics. The Health A–Z topics can be accessed via the website

(external link)

.
OneStop Health: Has recommendations for health products and services to help your individual situation.
Health Journal: A journal feature to log, monitor and track your symptoms.
Note: The app has a disclaimer that while it provides useful information, it's not a substitute for professional medical advice, diagnosis or treatment. If you think you may have a medical emergency, immediately call your doctor or the emergency services. Before acting on any of the information in the Your.MD app or symptom checker, consult with your doctor to make sure it is right for you. For the complete app description, go to the app website(external link) or Google Play(external link), or for a more detailed review, see Reviews.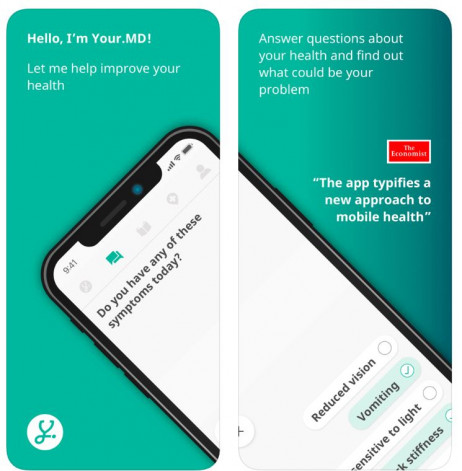 PROS
CONS

✔ Seems to do best with acute cases.

✔ Self-assessment questionnaires for HIV risk, postnatal depression, alcohol misuse, ADHD, depression, autism, social anxiety, body dysmorphia, PTSD, contraception, generalised anxiety disorder, fertility, eating disorders and daytime sleepiness.

✔ Large database of health articles that appear to be sourced from the NHS.

✔ Health journal with various tracking options. Syncs with Google Fit or Samsung Health.

✔ Multi-week sleep improvement and wellbeing health plans, eg, the wellbeing plan has you focus on one wellbeing topic per week for 4 weeks: get active, eat well, be mindful and improve sleep.


✘ No research available on the app's accuracy. This type of app should have published research on its accuracy.

✘ The symptom checker featured poorly with our in-house testing:
- only works for those 18 years and older.
- correct diagnosis in 2/10 of cases assessed
- correct triage in 4/10 of cases assessed
- often doesn't ask key questions
- the diagnosis sometimes doesn't fit with the answers given
- the database seemed quite limited with some symptoms not being understood by the programme.

Review details
Date of review: October 2019
Platform reviewed: Android
Version: 3.5.3
Download size: 9 MB
App developer
If you are the developer and would like to provide updated information about this app, please email the app library manager at applibrary@healthify.org.nz.
Learn more
Resources
Related topics
Using symptom checkers safely
Make the most of your healthcare visit
Consumer guide: how to choose a health app
Clinicians guide: how to choose a health app
NZ health app library
References
App developer: If you are the developer and would like to provide updated information about this app, please email the app library manager at
hello@healthify.nz
Disclaimer: Healthify's app library is a free consumer service to help you decide whether a health app would be suitable for you. Our review process is independent. We have no relationship with the app developers or companies and no responsibility for the service they provide. This means that if you have an issue with one of the apps we have reviewed, you will need to contact the app developer or company directly.