WRAP
By Advocates for Human Potential Inc
Features


Get the app from


Clinical review

App used on its own:



App used as part of the WRAP programme:






Read a clinical review of this app.

Security and privacy
Does the app:


collect medical information? No
require a login? No
have password protection? No
have a privacy policy? Yes
require internet access? No

Read more safety tips around health apps
Cost
Free
What does the app do?
The Wellness Recovery Action Plan (WRAP) app functions like a templated digital notebook for documenting progress when attending a WRAP programme. The app has a few sections, such as:
wellness toolbox section
daily plan
stressors
early warning signs
when things are breaking down
crisis plan
post-crisis plan
This app is designed to be used alongside the WRAP programme. It is best used with a support person, support group or in a WRAP group.

For the complete app description, go to Google Play(external link), App Store(external link) or, for a more detailed review, see Reviews.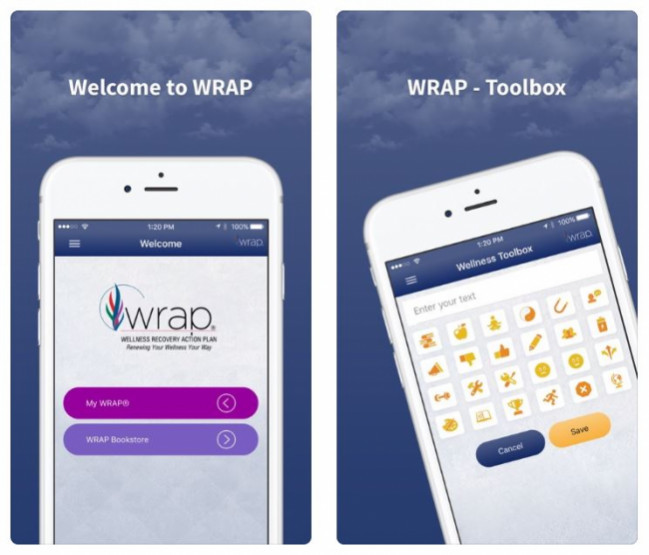 PROS
CONS;

✔ Works like a notebook to document your Wellness Recovery Action Plan.

✔ Has a tutorial section with instructions on how to use the app.



✘ The email function didn't work at the time of review.

✘ Technology has not been leveraged to its full potential here and it is very unlikely to be helpful outside the context of a group WRAP programme.

✘ Limited education about the programme.
Review details
Date of review: December 2019
Platform reviewed: Android
Version: 2.0
Download size: 21 MB
Updated: 27 March 2019
Related topics
Mental health and wellbeing apps overview
Mental health and wellbeing apps (for teenagers and young people)
Consumer guide: how to choose a health app
Clinicians guide: how to choose a health app
References
Canacott L, Moghaddam N, Tickle A. Is the Wellness Recovery Action Plan (WRAP) efficacious for improving personal and clinical recovery outcomes? A systematic review and meta-analysis

(external link)

Psychiatr Rehabil J. 2019 Dec;42(4):372–81.
Doughty C, Tse S, Duncan N, McIntyre L. The Wellness Recovery Action Plan (WRAP): Workshop evaluation.

(external link)

Australas Psychiatry Bull R Aust N Z Coll Psychiatr. 2008 Dec;16(6):450–6.
Zhang W, Wong SY, Li Y, Yeh H-S, Zhao Y. The Wellness Recovery Action Plan (WRAP): Effectiveness with Chinese consumers

(external link)

. Aotearoa NZ Soc Work. 2009 Jan 1;21(4):94–102.
App developer: If you are the developer and would like to provide updated information about this app, please email the app library manager at
hello@healthify.nz
Disclaimer: Healthify's app library is a free consumer service to help you decide whether a health app would be suitable for you. Our review process is independent. We have no relationship with the app developers or companies and no responsibility for the service they provide. This means that if you have an issue with one of the apps we have reviewed, you will need to contact the app developer or company directly.