Well Revolution
By Well Revolution
Features


Doctor and patient virtual consults
Request prescriptions
Billing

Get the app from





Country of origin

New Zealand

Clinical review

For patients




For doctors





Read a clinical review of this app.

Security and privacy
Does the app:


collect medical information? Yes
require a login? Yes
have password protection? Yes
have a privacy policy? Yes (Read more

(external link)

)
require internet access? Yes

Read more safety tips around health apps
Cost
Free (app)
Note: You will be charged through the app for the consult and other services such as reordering prescriptions.
What does the app do?
The Well Revolution app connects patients with doctors through a safe and secure virtual consultation. After installing the app, you can register and then message or video call your doctor. If your doctor isn't registered with the app, during set-up you can choose the Well Revolution doctors (24/7 doctors).

Doctors can also send paperless prescriptions in the app and you can choose to pick up prescriptions from your nearest pharmacy or get them delivered to your home.

The app uses 'asynchronous consultation', meaning both the doctor and patient reply only when they are able to, not in real time. So, the app is fine for non-urgent medical problems, when you don't need an immediate answer.
For the complete app description, go to the app website(external link), Google Play(external link), App Store(external link) or, for a more detailed review, see Reviews.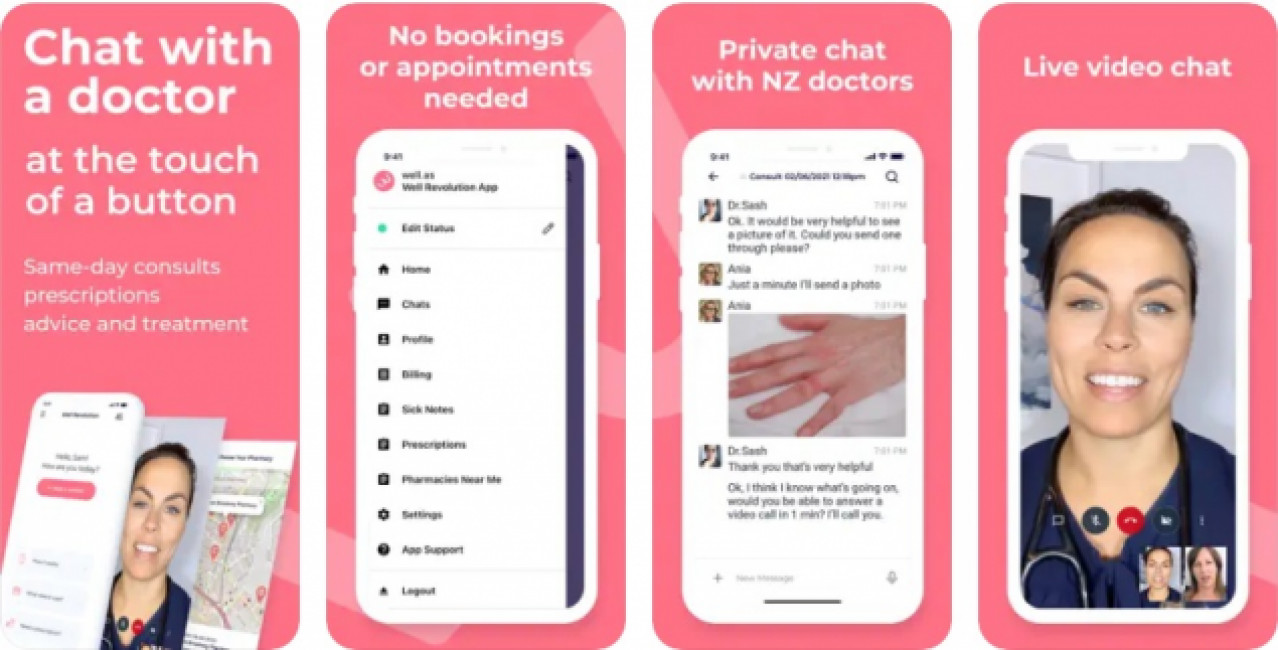 PROS
CONS

✔ More flexibility and less time pressure than audio, video and potentially even face-to-face consultations in some instances.

✔ Consult through a combination of text, pictures, audio clips, video calls, audio calls and other uploaded files as needed.

✔ The concept of the 'asynchronous consultation' is quite novel in the New Zealand context and has some distinct advantages over pre-scheduled real-time or synchronous consultations:
- The patient and doctor can reply when they are available, and they can each think over their responses more carefully if needed, take their time to get a good photo or find an electronic file, etc.
- It works around traditional appointment slots. It is on-demand with no appointment schedule (during the designated hours that the doctor assigns) meaning more flexibility.
- The consultation can progress as quickly or as slowly as necessary.
- If required, the app allows conversion to a synchronous (happening in real time) consultation via video or audio calls.

✔ Electronic prescriptions can be done within the app. The patient selects their pharmacy through the app and the app sends the prescription. This reduces the workload and potential for error compared to the normal workflow of the doctor or admin staff sending it to the pharmacy themselves.

✔ Push notifications for new messages etc.

✔ A tick is displayed when the message has been read by the other party, although this was not working properly when reviewed.

✔ Boundary setting in place with the app allowing the doctor to permanently close the consultation. Further consultations have the patient consent to a further charge.

✔ Technical support was extremely good.

✔ At the time of writing the only charges are a 3% fee on each payment with no monthly charge.

✔ If the user's normal GP is not registered, then they can connect with one of the app's doctors. Many doctors will be happy to hear that they are not charging 'claw backs' to the registered doctor.


✘ No current integration with any practice management software (PMS). This leads to some limitations:
- If a doctor does a prescription, they may wish to also do it in their PMS for other doctors to see. This is a doubling up of work if the doctor prescribes through the app.
- Some practices may want the charges to also show on the PMS, and currently this needs to be done manually.
- The app cannot verify certain details, like if a user is enrolled, if they have a community services card or if they are a child. This means that the correct charge cannot automatically be applied and the doctor cannot block non-enrolled users if they so choose.
- There is no current way of copying the conversation to the PMS, and it cannot be manually exported either.
- There is no simple way of sending patient forms from the PMS for things like blood tests, imaging and certificates.

✘ No desktop or web browser application.
- It would not be easy to show a patient their blood results or other health information via copying and pasting or screensharing on a mobile phone or tablet.
- Many doctors would likely prefer using their desktop or laptop with a larger screen, physical keyboard and mouse, and having their normal desktop applications within the same screen.

✘ There is no patient portal integration, which could lead to patient confusion with having 2 accounts with separate apps.

✘ The doctor cannot override the default charge with a custom amount.

✘ The patient can only pay via credit card. Not all patients have a credit card or Visa debit card. There is no current support for other payment methods like POLi or online EFTPOS.

✘There is no tablet-optimised version – it runs as a phone app on a tablet.
Related topics
Telehealth
Patient portal apps
Clinician's guide: how to choose a health app
Consumer guide: how to choose a health app
New Zealand-based apps
Review details
Date of review: May 2020
Platform reviewed: Android and Apple
Version: 1.23.2
App developer: If you are the developer and would like to provide updated information about this app, please email the app library manager at
hello@healthify.nz
Disclaimer: Healthify's app library is a free consumer service to help you decide whether a health app would be suitable for you. Our review process is independent. We have no relationship with the app developers or companies and no responsibility for the service they provide. This means that if you have an issue with one of the apps we have reviewed, you will need to contact the app developer or company directly.