Voda: LGBTQIA+ Mental Wellness
By Voda Technologies Limited
Features


Reminders
Daily check-in, notifications

Get the app:






Country of origin
United Kingdom (UK)
Review




Read a clinical review of this app.

Security and privacy
Does the app:


collect medical information? No
require a login? Yes
have password protection? Unknown
have a privacy policy? Yes
require internet access? Yes

Read more safety tips around health apps.
Cost
Basic is free, but there is a paid upgrade version
Advertisements
This app contains no ads.
What does the app do?
The Voda app provides evidence-based therapy and support to LGBTQIA+ users. It is most useful for people aged 12 years and over, and individuals wanting to learn ways to manage challenges commonly experienced by the LGBTQIA+ community. Voda provides the users with evidence-based therapy and support to overcome an array of challenging emotions (eg, therapeutic exercises to calm down and de-stress, guided therapy to build emotional self-awareness, mindfulness to calm down, introductory programmes around accepting difficult emotions, calming anxiety, affirming identify, practising gratitude). It also provides articles to read that support the user to gain a better understanding of some of the challenges they maybe facing (eg, being self-confident, insecurities in relationships, overcoming internalised stigma, accepting my body, dealing with critical self-talk).
For the complete app description, go to the app website(external link), Google Play(external link), App Store(external link) or, for a more detailed review, see Reviews.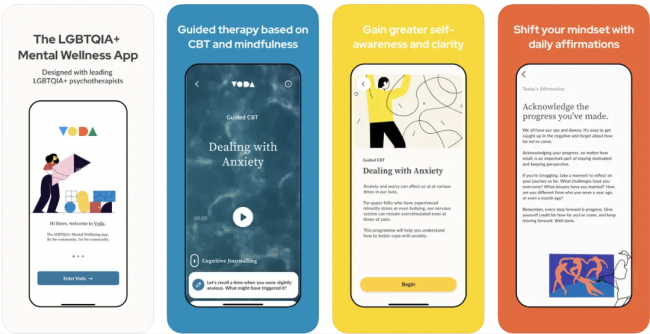 PROS
CONS
✔ As above, it provides the user with an array of evidence-based therapy and supports embedded in the app and free to the user.

✘ Users must create an account to begin to use the app which may put some users off who want to remain anonymous.

✘ User must purchase the "premium" membership to access a lot more content.
Review details
Date of review: Mar 2023
Platform reviewed: Apple
Version: 1.43
App developer: If you are the developer and would like to provide updated information about this app, please email the app library manager at
hello@healthify.nz
Disclaimer: Healthify's app library is a free consumer service to help you decide whether a health app would be suitable for you. Our review process is independent. We have no relationship with the app developers or companies and no responsibility for the service they provide. This means that if you have an issue with one of the apps we have reviewed, you will need to contact the app developer or company directly.