Thinkability
By Eumedianet BV
Features


21 activities
Audio, video, images
Games

Get the app from


Clinical review




Read a clinical review of this app.

User reviews

Security and privacy
Does the app:


collect medical information? No
require a login? No
have password protection? No (not needed)
have a privacy policy? No
require internet access? Yes to download but not to use

Read more safety tips around health apps
Cost
$8.99 (iPad)



Learn more about

app charges
What does the app do?
Thinkability app comprises a number of activities to stimulate conversation and interaction with a person with mild-to-moderate dementia. The activities are based on cognitive stimulation therapy (CST), which has been shown to enhance cognition in some individuals, through a series of themed activities designed to help them continue to learn and stay socially engaged.
For the complete app description, go to the app website(external link), Google Play(external link), App Store(external link) or, for a more detailed review, see Reviews.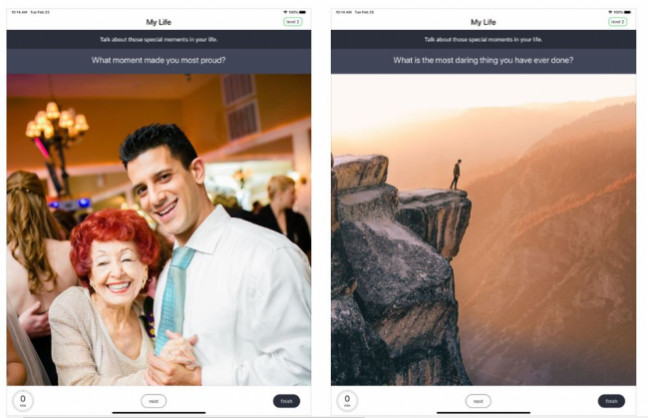 PROS
CONS

✔ Activities based on cognitive stimulation therapy

✔ Easy to use

✔ Each activity has 2 levels

✘ Cost – $8.99 (iPad)

✘ Not available for iPhone, needs an iPad

Review details
Date of review: May 2020
Platform reviewed: Android
Version: 1.0.0
Learn more
Cognitive Stimulation Therapy(external link)
Related topics
Dementia | Mate korongenge
Dementia apps
Consumer guide: how to choose a health app
Clinicians guide: how to choose a health app
NZ Health App Library
App developer: If you are the developer and would like to provide updated information about this app, please email the app library manager at
hello@healthify.nz
Disclaimer: Healthify's app library is a free consumer service to help you decide whether a health app would be suitable for you. Our review process is independent. We have no relationship with the app developers or companies and no responsibility for the service they provide. This means that if you have an issue with one of the apps we have reviewed, you will need to contact the app developer or company directly.