What does the app do?
Tala-Moana app allows users to connect with 7 Pacific languages and cultures (Cook Islands, Fiji, Niue, Tonga, Tokelau, Sāmoan and Tuvalu) to improve their understanding of Pacific communities and their health and social needs. The app has a variety of features to help users improve their cultural confidence in Pacific health communities in New Zealand.
Fast and accurate retrieval of health information digitally, in the selected language, with the backing of cultural information delivered both on screen and in pop-up captions.
Language interactivity, toggle between the 7 Pacific languages and related cultural information.
Synchronised narration of the 7 Pacific languages with interactive text to give users the confidence to both speak and understand the pronunciation of words and phrases.
"Tap function", tap a bold word once to hear the correct pronunciation in the requested language.
"Double tap function", double tap a bold word to hear it spoken phonetically syllable-by-syllable in the requested language.
Syllable-by-syllable synchronisation for languages that depend on specific symbols for meaning.
Ability for users to create their own introductions in the relevant culture, including opening and closing of meetings.
Export function allows the export of selected pages to share information with colleagues and for events.
Record yourself function enabling users to practise introductions, prayers, diagnoses and other content in a selected language; export to get feedback; share with colleagues; or store in the app for a refresh when required.
Customisable profile templates whereby the user enters their own information and images and then swipes to see their personal introduction written in the selected language. This useful resource remains stored in the app until the user amends or removes it.
Opt-in push notifications for continuing engagement.
For the complete app description, go to Microsoft(external link), Google Play(external link), or the App Store(external link).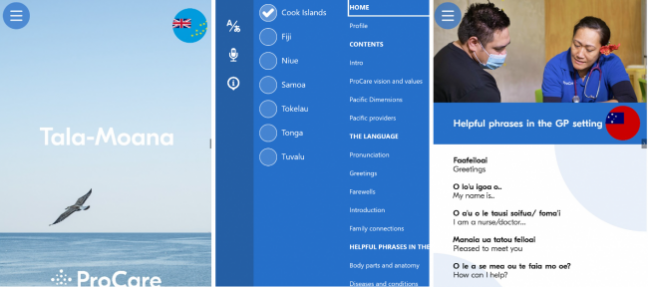 Review details
Date of review: October 2022
Related topics
Pacific models of health
Consumer guide: how to choose a health app
Clinicians guide: how to choose a health app
NZ health app library
App developer: If you are the developer and would like to provide updated information about this app, please email the app library manager at
hello@healthify.nz
Disclaimer: Healthify's app library is a free consumer service to help you decide whether a health app would be suitable for you. Our review process is independent. We have no relationship with the app developers or companies and no responsibility for the service they provide. This means that if you have an issue with one of the apps we have reviewed, you will need to contact the app developer or company directly.