What does the app do?
SuperBetter is a motivational app that comprises a series of games and challenges. By using words that relate to gaming the app aims to get you to build on your strengths and overcome your weaknesses. The app has categories that have some science behind them. For example 'power-ups' are anything that makes you feel better which in turn sparks positive emotions, 'quests' enable you to track your daily and weekly goals, 'bad guys' involves battling bad habits and mindsets, 'allies' are your strong social relationships and 'future boosts' are things you look forward to.
For the complete app description, go to iTunes(external link) or the app website(external link) and for a detailed review, see Reviews.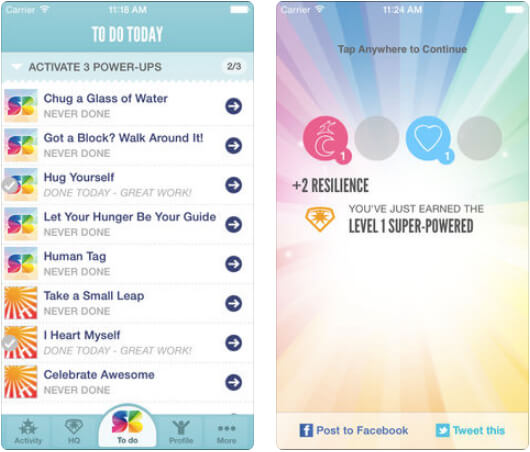 PROS
CONS

✔ Has had a successful clinical trial showing improvement in depression after 6 weeks, and a second trial showing improvement in post-concussion symptoms after 3-6 weeks.

✔ Design built in collaboration with experts in neuroscience, positive psychology and medicine.

✔ Uses evidence based psychological strategies such as cognitive behavioural therapy, acceptance commitment therapy and positive psychological therapy.

✔ Uses 'gamification' to increase users' drive to achieve their goals (divided into physical, mental, emotional and social dimensions). Level up, get power ups, go on quests, make allies and fight bad guys.

✔ Reminders

✔ Has an integrated website and an optional companion book.




✘ Text based format, minimal visual appeal, lack of utility of the leveling system, and limited interactive content. Layout can be confusing to a new user - easier with repeated use

✘ Links within quest system are broken.

✘ Minimal cohesion between app components.

✘ Content within power ups, quests and bad guys are all static, not responding to use (e.g. the "sticky chair" bad guy will always tell you to take a single step away from the chair. It won't advance beyond this with use).

✘ Difficult to determine which power up is related to which goal.





Privacy and security
The app does not collect personal information. It has a privacy policy — there do not appear to be any no concerns. Read more about things you can do to improve your safety and security when using apps.
Review details
Date of review: April 2018
Platform reviewed: Android
Version: 1.1.8
Download size: 4.68 MB
Updated on 06/03/2018
Other useful resources
This app has been reviewed by other independent websites.
Learn more
Roepke AM, Jaffee SR, Riffle OM, McGonigal J, et al. Randomized Controlled Trial of SuperBetter, a Smartphone-Based/Internet-Based Self-Help Tool to Reduce Depressive Symptoms.(external link) Games Health J. 2015 Jun;4(3):235-46.
Payne HE, Moxley VB, MacDonald E. Health Behavior Theory in Physical Activity Game Apps: A Content Analysis(external link). JMIR Serious Games. 2015 Jul 13;3(2):e4.
Related topics
Consumer guide: how to choose a health app
Clinicians guide: how to choose a health app
Goal setting, problem solving and motivation apps
NZ Health App Library
Making changes and goal setting
App developer: If you are the developer and would like to provide updated information about this app, please email the app library manager at
hello@healthify.nz
Disclaimer: Healthify's app library is a free consumer service to help you decide whether a health app would be suitable for you. Our review process is independent. We have no relationship with the app developers or companies and no responsibility for the service they provide. This means that if you have an issue with one of the apps we have reviewed, you will need to contact the app developer or company directly.