Step Away: Alcohol Help app
Here and Now Systems LLC
Features


Goal setting
Track progress
Education and information
Connect to local support services

Clinical review



Security and privacy
Does the app:


collect medical information? Yes
require a login? Yes
have password protection? Yes
have a privacy policy? Yes (Read more

(external link)

)
require internet access? Yes

Read more safety tips around health apps
Cost
Free
What does the app do?
Step Away is an app that helps people reduce the amount of alcohol they drink or to stop drinking alcohol altogether. The interactive app has tools to help you with your goals.

The app provides you with the tools to help you manage your drinking. You can:
assess your level of drinking
set goals to manage your drinking
use the app's tool to help you reach these goals
quickly and easily connect with people who are part of your support network
link to external support networks.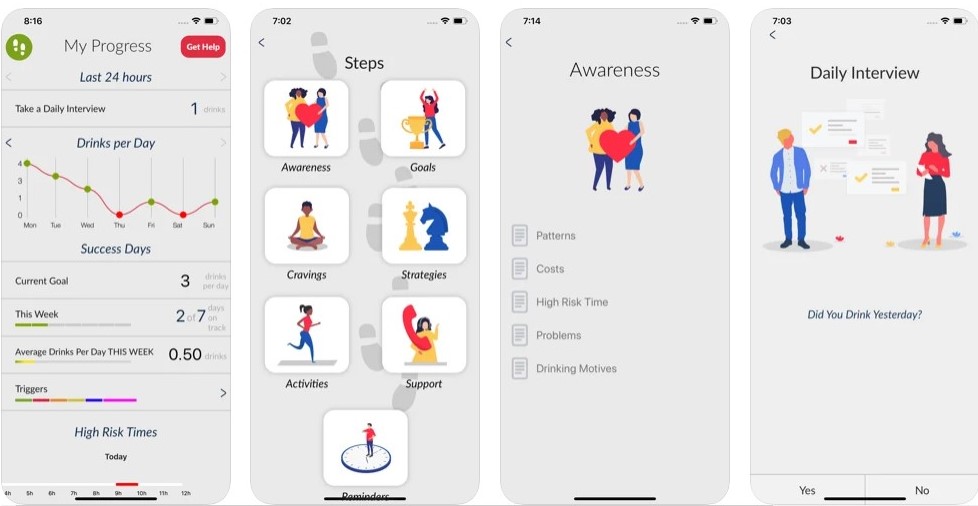 PROS
CONS

✔ It uses a motivational enhancement therapy (MET) framework. This is an evidence-based approach that empowers users to make internally motivated change.

✔ Module 1: Drinking profile. There is an assessment on your drinking quantity and frequency, assessment of alcohol dependency (SADQ), drinking consequences (SIP), drinking motives (DMQR) and drinking costs (monetary and caloric). It also gives norm-based feedback (comparison to the average) and visualises the important data in graph form.

✔ Sends an email summary of your drinking profile (only works with the Apple mail app activated, not Gmail or presumably other clients).

✔ Module 2: Facilitative goal setting. It allows you to choose between an abstinence and moderation drinking approach. Guidance is given to aid the goal setting, eg, if moderation is chosen you are told the likelihood of success based on your dependency score.

✔ Module 3: Setting rewards. For example, you are prompted to reward yourself with each daily goal met.

✔ Module 4: Cravings. You are given coping strategies to manage these, such as pleasant activity scheduling, mindfulness and contacting a support person.

✔ Module 5: Behavioural strategies for preventing relapse looking at timing, approach, consumption and communication.

✔ Module 6: Supportive. Emphasises social support and facilitates sending reports to significant others and text alerts during high risk times. Helps you connect with alcohol-related services or people within your own support network.

✔ Module 7: Reminders. You are asked to write down how life will improve with changes to drinking and are advised to create verbal and visual (photos) reminders.

✔ Module 8: High risk times. Alerts you to when a high risk time is approaching (based on previous assessments) and provides alternative activities.

✔ Module 9: Moods. Information on the link between mood and drinking, feedback on current and previous mood levels, and suggestions. Assesses mood with a validated tool (DASS).

✔ Module 10: New activities. Guides you to replace drinking with non-drinking activities. Links to calendar to schedule activities with reminders (only works with Apple calendar, not Google calendar or presumably other calendars).


✘ At the time of review there is no Android app but it is in development and is anticipated to launch soon.

✘ The app advertises "60% reduction in drinking" but does not disclose that this is from unpublished results. Nevertheless there is a pilot study for the US version and the framework is evidence based.

✘ It appears that some of the functionality requires first party Apple apps, such as the mail and calendar features. They don't work with Google versions or presumably others.

✘ No specific Māori/Pasifika content at the time of review due to lack of funding.












Review details
Date of review: May 2020
Platform reviewed: Apple
Version: 1.0
Reviews
User review
Reviewer: Health professional, Christchurch, September 2020
Comments: Good idea but limited usefulness. Can track each week but unable to look back at previous weeks to compare or see pattern App asks you to make a goal- goal is daily amount alcohol or no alcohol- no flexibility eg to be abstinent 2 days per week.
---
Clinical review

Reviewer: Jeremy Steinberg, GP, FRNZCGP
Date of review: May 2020
Comments: The original US version of this app was developed over several years and was then picked up by Auckland researchers and adapted for the NZ context. It is built off a motivational enhancement therapy framework which empowers people to make internally motivated change. The app covers 10 modules providing assessment, feedback, monitoring, strategies and more. Results of a pilot study of the US version showed benefit.¹ The US app was then modified with feedback from the pilot study. There are no published data for the NZ version yet. The user can use the app with or without joining the ongoing research study.
I would highly recommend this to those with drinking-related problems who are unwilling or unable to engage with in-person treatment. It could also potentially be used as an adjunct to in-person treatment.
The main drawbacks are the lack of an Android version (Android has almost 60% market share in New Zealand), and the lack of specific Māori/Pacific content.
Safety concerns: No concerns. The application assesses the user's level of dependency and assesses mood.
New Zealand relevance: Adapted for New Zealand
References:
Dulin PL, Gonzalez VM, Campbell K. Results of a pilot test of a self administered smartphone-based treatment system for alcohol use disorders: Usability and early outcomes

(external link)

(external link)

Substance Abuse. 2014;35:168-175.
App developer: If you are the developer and would like to provide updated information about this app, please email the app library manager at
hello@healthify.nz
Disclaimer: Healthify's app library is a free consumer service to help you decide whether a health app would be suitable for you. Our review process is independent. We have no relationship with the app developers or companies and no responsibility for the service they provide. This means that if you have an issue with one of the apps we have reviewed, you will need to contact the app developer or company directly.