Squeezy for men
By NHS and Living With Ltd
Features


Audio and visual exercise guides
Customisable exercise plan
Education and information

Get the app from


Clinical review





Read a clinical review of this app.

Cost
$6.49 ($NZ)



Learn more about

app charges
(Living With Health, UK, 2018)
What does the app do?
The app comes preset with a standard set of exercises, but it can be personalised with a programme set by a specialist physiotherapist. It reminds you when you need to exercise and you can record the number of exercises you've completed. The app has visual and audio features to help you with your programme.
For the app description, go to App website(external link), Google Play(external link), iTunes(external link) and for a detailed review, see Reviews.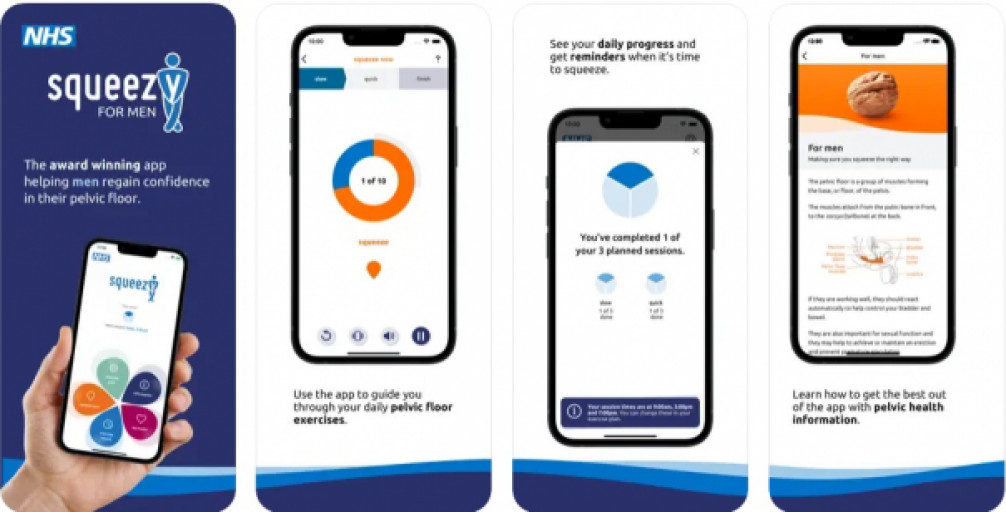 PROS
CONS

✔ Developed with input from Women's Health Physiotherapists, uses evidence-based research and is approved by the NHS (public health system in the UK)

✔ Visual and auditory guided pelvic floor exercises. Has a default exercise program with both quick and slow contractions. This can be customised by a physiotherapist.

✔ Exercises are recorded automatically so you can track your progress.

✔ Has reminders


✘ Costs $6.49

✘ A financial grant was received from a drug company, but it was unrestricted, and I could not find any mention of medication.

✘ Can't export exercise records.

✘ No bladder diary like with the squeezy app for women.

✘ No section on bladder retraining for those with urge incontinence.

✘ It could do with more information, such as information on other treatment options for erectile dysfunction and incontinence.
How do I get started using Squeezy?
(Living With Health, UK, 2018)
Privacy and security
The app has a privacy policy. Some information is collected. Read more about things you can do to improve your safety and security when using apps.
Review details
Date of review: September 2018
Platform reviewed: Android
Version: 1.2.11
Download size: 1.3 MB
Updated on: April 2017
Related topics
Consumer guide: how to choose a health app
Clinicians guide: how to choose a health app
NZ health app library
Pelvic floor exercise apps
Pelvic floor training for men
Bladder control problems in men
Erectile dysfunction
App developer: If you are the developer and would like to provide updated information about this app, please email the app library manager at
hello@healthify.nz
Disclaimer: Healthify's app library is a free consumer service to help you decide whether a health app would be suitable for you. Our review process is independent. We have no relationship with the app developers or companies and no responsibility for the service they provide. This means that if you have an issue with one of the apps we have reviewed, you will need to contact the app developer or company directly.