SmallTalk Dysphagia
By Lingraphica
Features


A vocabulary of pictures and icons that talk in a natural human voice
Demonstration videos

Get the app from


(external link)

Clinical review





Read a clinical review of this app.

Security and privacy
Does the app:


collect medical information: No
require a login: No
have password protection: No
have a privacy policy: No
require internet access: No

Read more safety tips around health apps
Cost
Free
What does the SmallTalk Dysphagia app do?
This app is a library of pictures and icons that have a natural human voice over. It is aimed at someone with both speech and swallowing problems, to help them communicate with their carer. The pictures and icons are of phrases that relate to swallowing such as "I need chin support", "I need a special cup", etc. The icons are arranged sequentially to coincide with the start and conclusion of a meal. The app has four videos demonstrating more complex concepts.
For a complete app description, go to the App Store(external link) or for a more detailed review, see Reviews.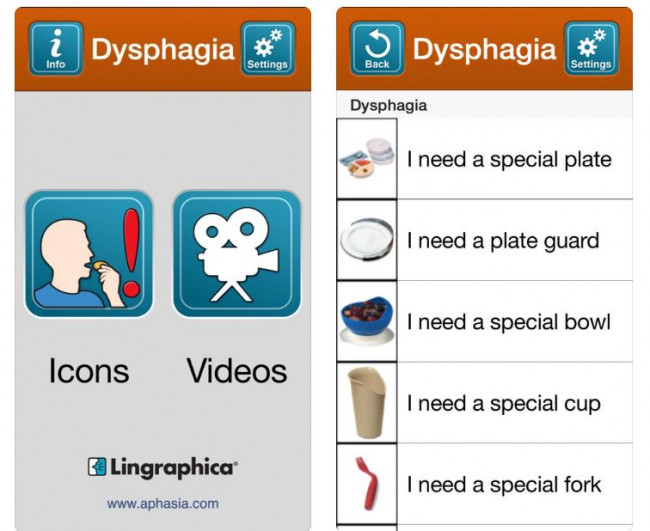 PROS
CONS

✔ Developed by speech language therapists.

✔ Choose a female or male voice.

✔ 50 "cards" to describe meal assistance, equipment, dietary modification, how to take medications, and swallow techniques.

✔ Each phrase includes a picture, text and audio.

✔ Four videos for compensatory swallow techniques (techniques helpful with certain types of dysphagia).


✘ Last updated 3 years ago

✘ The preview text is cut off in the selection menu for most cards. This may cause difficulty in choosing the correct phrase. For example there are two cards that are labelled "I take my medication…"
Review details
Date of review: July 2019
Platform reviewed: Apple
Version: 3.4
Download size: 45.2 MB
Updated on: July 2015
Related topics
Consumer guide: how to choose a health app
Clinicians guide: how to choose a health app
NZ health app library
Swallowing difficulty apps
Brain injury
Parkinson's overview | Mate pākenetana
App developer: If you are the developer and would like to provide updated information about this app, please email the app library manager at
hello@healthify.nz
Disclaimer: Healthify's app library is a free consumer service to help you decide whether a health app would be suitable for you. Our review process is independent. We have no relationship with the app developers or companies and no responsibility for the service they provide. This means that if you have an issue with one of the apps we have reviewed, you will need to contact the app developer or company directly.