Self-help App for the Mind (SAM)
By University of the West of England and MyOxygen
Features


Self-help tools
Education and information
Mood tracking
Trigger log
Community forum

Get the app from


Country of origin
UK
Clinical review




Read a clinical review of this app.

Security and privacy
Does the app:


collect medical information: Yes
require a login: Yes
have a password: Yes
have a privacy policy: Yes
requires internet access to use: No but the app has limited functionality offline

Read more

safety tips around health apps.
Cost
Free
What does the app do?
Self-help App for the Mind (SAM) helps users learn about anxiety, depression and loneliness and practice self-help techniques to manage them.
Users can keep track of their mood and triggering situations.
The self-help section offers a variety of tools such as breathing exercises, muscle relaxation exercises, meditation, thought exercises and tips.
Users can create a list of favourite self-help tools.
The app also has a discussion forum for users to get and give support.
For a more detailed description of the app, see Apple Store(external link), Google Play(external link) or iTunes(external link) and for a detailed review, see Reviews.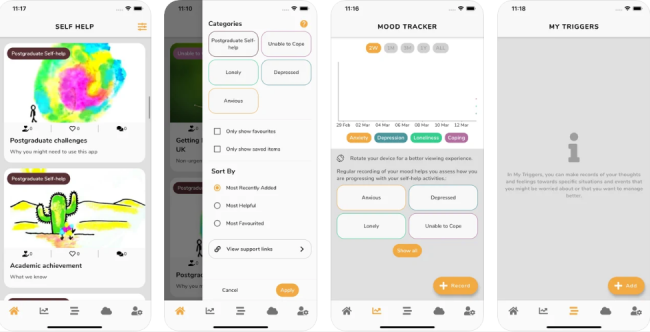 PROS

CONS

✔ Support from community forum available.

✔ Provides links to other self-help resources.



✘ Instructions for using app provided but are difficult to find.

✘ Educational components and readings are minimal and superficial.

✘ Although the app provides many different self-help tools, these are difficult to locate and are provided in written, instructional format rather than more interactive means. Some provide incorrect or incomplete instructions for the strategies described.

✘ Some content is not functioning, eg, broken links, and muscle relaxation exercise doesn't play.

✘ Content doesn't address different types of anxiety disorders making advice too general at times to be useful.

✘ Difficult to navigate, unstructured or information provided out of order.
Review details
April 2022; Version 1.1.0; Android
November 2017; Version: 1.2.6; Android
Other useful resources
This app has been reviewed by other independent websites.
Self-help anxiety management – a professional review(external link) One Mind PsyberGuide
Learn more
Review of Self Help Anxiety Assessment app(external link) iMedicalApps, July 2015
SAM website(external link)
Bakker D, Kazantzis N, Rickwood D, et al. Mental Health Smartphone Apps: Review and Evidence-Based Recommendations for Future Developments.(external link) JMIR Ment Health. 2016 Mar 1;3(1):e7.
Van Singer M, Chatton A, Khazaal Y. Quality of smartphone apps related to panic disorder(external link) Front Psychiatry. 2015 Jul 14;6:96.
Related topics
Consumer guide: how to choose a health app
Clinicians guide: how to choose a health app
Mental health and wellbeing apps overview
NZ Health App Library
Anxiety | Mate māharahara
Mental health conditions
App developer: If you are the developer and would like to provide updated information about this app, please email the app library manager at
hello@healthify.nz
Disclaimer: Healthify's app library is a free consumer service to help you decide whether a health app would be suitable for you. Our review process is independent. We have no relationship with the app developers or companies and no responsibility for the service they provide. This means that if you have an issue with one of the apps we have reviewed, you will need to contact the app developer or company directly.