Recipes for Kids
By

Endless

Features

Recipes listed with image of food
Recipes categorised into meals
Ability to add to shopping list
Ability to mark favourite recipes
Recipe search based on ingredients

Get the app:


(external link)

Country of origin
India
Clinical review




Read a clinical review of this app.

Security and privacy
Does the app:


collect medical information? No
require a login? No - optional
Can be password protected No
have a privacy policy? Yes
require internet access? Yes

Read more safety tips around health apps.

Cost

Free contains add.
Premium: $0.99/month or $7.00/year (?Currency)
Print and PDF recipes, more recipes and videos.

Advertisements
This app contains ads, which may vary from user to user.
Premium does not contain ads.
What does the app do?
Recipes for Kids app is a recipe library. There is access to videos of some recipes, ability to flag recipes which are favourites, alongside a lot of advertisements. In addition, it has the ability to record a shopping list and search for recipes based on ingredients.
For the complete app description, go to Google Play(external link) or, for a more detailed review, see Reviews.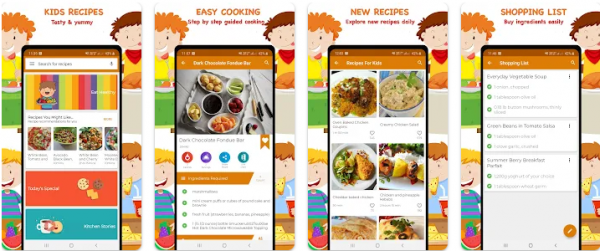 PROS
CONS

✔ Login allows for contribution to recipe database.


✔ Login allows for participation in online chef community.


✔ Search recipes based on ingredients.

✔ Create a shopping list.


✔ Videos of some recipes.


✘ Recipes are not screened to determine if they are "healthy" and most are not nutritionally balanced.

✘ Excessive advertisements on free version.

✘ Written recipe structure hard to follow.
Review details
Date of review: 21 September 2023
Platform reviewed: Android
Version: 31.0.5
Related topics
Consumer guide: how to choose a health app
Clinicians guide: how to choose a health app
Nutrition apps – children
New Zealand-based apps
NZ Health App Library
App developer: If you are the developer and would like to provide updated information about this app, please email the app library manager at
hello@healthify.nz
Disclaimer: Healthify's app library is a free consumer service to help you decide whether a health app would be suitable for you. Our review process is independent. We have no relationship with the app developers or companies and no responsibility for the service they provide. This means that if you have an issue with one of the apps we have reviewed, you will need to contact the app developer or company directly.