oVRcome
By

oVRcome

Features


Education
Virtual reality (VR) exposure therapy
Tools/techniques
Tracking

Get the app:


Country of origin

Aotearoa New Zealand

Clinical review




Read a clinical review of this app.

Security and privacy
Does the app:


collect medical information? Yes (collects medical information such as severity of fear, and anxiety ratings for specific VR environments. This data is used to personalise the treatment for the user. The data collected is encrypted.)
require a login? Yes
have password protection? No
have a privacy policy? Yes

(external link)

require internet access? Yes

Read more safety tips around health apps.
Cost
Free version (basic). NZ$46 per month (excludes headset) or NZ$322 annually (includes headset).
Advertisements
This app contains no ads.


What does the app do?
The oVRcome app is most useful for people who have a phobia or fear and want to overcome it. Currently the app offers 7 programmes, these are targeted for fear of needles, flying, heights, public speaking, dogs, spiders and social anxiety.

The app consists of 6 modules:
The first 4 modules are psychoeducation modules where users learn skills and techniques for managing anxiety, eg, diaphragmatic breathing and thought reframing.
The 5th module is the virtual reality exposure therapy, this is where the user will build their exposure hierarchy from the extensive library of VR content, and experience gradual exposure. The app records a user's anxiety rating using a subjective units of distress scale (SUDS) rating which is entered using gaze control. The 5th module is where users spend the majority of their time in the app.
Once the exposure hierarchy is completed, the 6th module is one that prepares the user for real-life exposure and also includes meditation material.
Free version (basic)
The free portion of the app allows the user to select virtual reality (VR) clips from different categories of phobias that they would like to work on in gaining confidence in managing their phobia. The selection of VR clips is limited in number and restricted to "low and medium" anxiety ones. The videos can be viewed on a handheld mobile phone, or using a VR headset (e.g. Google cardboard) for an immersive experience.
Premium version
In the premium subscription, users will be mailed a VR headset, gain access to a 2.5 hour psychoeducation program split into 6 modules and a VR library with graded exposure of the anxiety-provoking stimulus.

For the complete app description, go to the app website(external link), Google Play(external link), App Store(external link) or, for a more detailed review, see Reviews.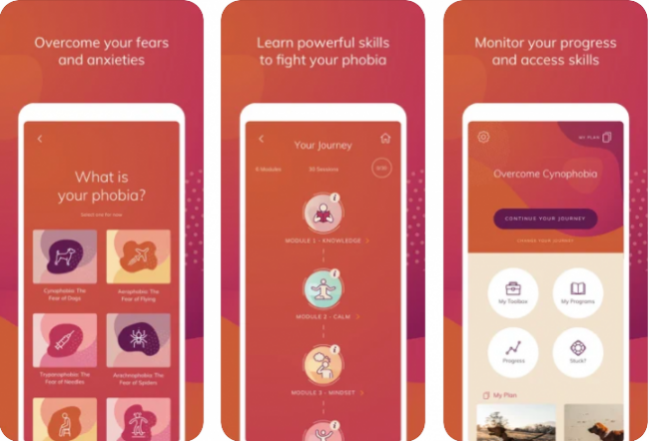 PROS
CONS

✔ The psychoeducation programme is split into 6 modules.

✔ Utilises immersive virtual reality technology for graded exposure.

✔ Virtual reality (VR) goggles provided with a premium subscription.

✔ Videos are useable without VR goggles in 360° mode on handheld device.

✔ Active and helpful app developers.

✘ Higher resolution videos can take a long time to download and infrequently crash the device.
Review details
Date of review: November 2021 (reviewed the needle phobia programme)
Platform reviewed: Apple iOS
Version: 1.44.3
Related topics
Phobia topics
Consumer guide: how to choose a health app
Clinicians guide: how to choose a health app
NZ health app library
App developer: If you are the developer and would like to provide updated information about this app, please email the app library manager at
hello@healthify.nz
Disclaimer: Healthify's app library is a free consumer service to help you decide whether a health app would be suitable for you. Our review process is independent. We have no relationship with the app developers or companies and no responsibility for the service they provide. This means that if you have an issue with one of the apps we have reviewed, you will need to contact the app developer or company directly.