Oto app
By Oto Health Ltd
Features


Goal setting – select 1 or multiple from pre-set list of 4.
Tracking – habituation program with 5 modules, each broken down into daily tasks.
Reminders – optional daily reminders.
Sounds – list of sounds to play.

Get the app:


Country of origin
United Kingdom (UK)
Review


Read a clinical review of this app.

Security and privacy
Does the app:


collect medical information? No
require a login? No
have password protection? No
have a privacy policy? Yes
require internet access? Yes

Read more safety tips around health apps.
Cost
Free initially – you can sign up for free.

Annual cost of $99.99 or if paid monthly costs $19.99 per month (an annual subscription has a comparable cost to other similar apps, but if you pay monthly this works out to be quite expensive)
Advertisements
This app contains no ads.
What does the app do?
This app uses CBT (Cognitive Behavioural Therapy), mindfulness, relaxation, physical stretches and exercise, ACT (Acceptance and Commitment Therapy), visualisation, sleep assistance, and sound therapy. The user works through a guided programme with short talks of 2–6 minutes.
For the complete app description, go to the app website(external link), Google Play(external link), App Store(external link) or, for a more detailed review, see Reviews.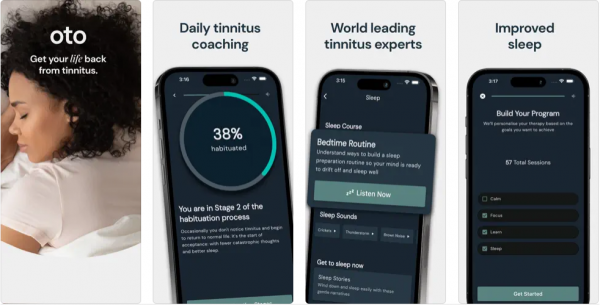 PROS
CONS
✔ App has online version

✔ Partners with the British Tinnitus Association

✔ Apple app store shows users rated the app 4.7/5, and google play store users rated the app 4.2/5, suggesting iPhones working better than android.

✔ CBT based (research shows it's helpful for tinnitus).

✔ Developed by doctors.

✔ Good range of research based and proven psychological approaches to help with tinnitus.

✔ Sound therapy as well.
✘ Based in the UK so online chat is not available during NZ time.

✘ You can't make changes to the masking sounds or adapt the programmes to tailor to the user.

✘ While the annual membership is good value for how comprehensive the app is, the pay-monthly option is quite expensive.
Review details
Date of review: March 2023
Platform reviewed: Apple
Version: 4.3.432
Related topics
Consumer guide: how to choose a health app
Clinicians guide: how to choose a health app
New Zealand-based apps
Tinnitus apps
Security and privacy of health apps
App developer: If you are the developer and would like to provide updated information about this app, please email the app library manager at
hello@healthify.nz
Disclaimer: Healthify's app library is a free consumer service to help you decide whether a health app would be suitable for you. Our review process is independent. We have no relationship with the app developers or companies and no responsibility for the service they provide. This means that if you have an issue with one of the apps we have reviewed, you will need to contact the app developer or company directly.