NZ COVID Tracer
By Ministry of Health, NZ
Features


Digital diary of the places you visit
Scans QR codes
Registers contact information
Contact alerts

Get the app:


Country of origin

New Zealand

Security and privacy
Does the app:


collect medical information? No
require a login? Yes
have password protection? Yes
have a privacy policy? Yes

(external link)

require internet access? No

Read more:

Cost
Free
What does the app do?
NZ COVID Tracer app is a contact tracing app that enables faster contact tracing by creating a digital diary of the places you visit. After downloading the app, you will be asked to enter your email address and create a password. You'll then receive an email with a 6-digit code that will allow you to complete the registration process.
Create a digital diary
To create a digital diary of the locations you visit, select the 'Record a visit' option and point your camera at any COVID-19 QR code poster so the code fits within the target area on the display of your phone. A green tick will show up on the display when the QR code has been scanned successfully. Make sure to give NZ COVID Tracer permission to access your camera when prompted.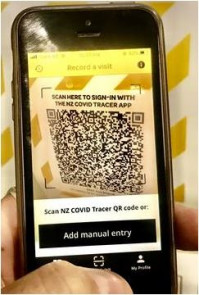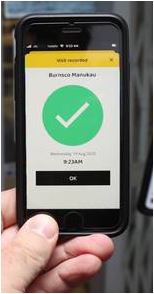 If you have any problems scanning the QR Codes, you can email help@covidtracer.min.health.nz.

You can also add a manual entry to your digital diary.
Bluetooth tracing
The NZ COVID Tracer app has been updated to include Bluetooth tracing technology, which allows you to receive an alert if you have been near another app user who tests positive for COVID-19.
Bluetooth tracing is not intended to replace our existing contact tracing processes or the NZ COVID Tracer QR codes.
You still need to scan QR codes to keep track of where you've been.
Bluetooth tracing is an added tool – it helps keep track of the people you've been near.

Bluetooth tracing will not use any mobile data and it won't drain your battery because it uses Bluetooth low energy.
How to enable Bluetooth tracing
To enable Bluetooth tracing, go to the dashboard of the NZ COVID Tracer app. You should see a menu item saying whether Bluetooth tracing is on or not. If it's off, tap the icon to turn it on. Once Bluetooth tracing is enabled in the app, it will work automatically in the background as long as you have your phone's Bluetooth setting on.
The minimum requirements for Bluetooth tracing are:
for iPhones, iOS 13.5 or higher
for other phones, Android 6.0 or higher plus support for Bluetooth Low Energy and Google Play Services.
Note: The developers of the NZ COVID Tracer app are working on Bluetooth tracing for iPhone 5S, 6 and 6+ users who have upgraded to iOS 12.5. Read more about partial support for Bluetooth tracing in iOS 12.5(external link).

Information about who you have encountered using Bluetooth tracing will never leave your phone and is automatically deleted after 14 days. Read more about how Bluetooth tracing works(external link).
Sign up for contact alerts
You can sign up for contact alerts by visiting the NZ COVID Tracer dashboard and checking the 'Receive contact alerts' tile. Contact alerts work through 'push notifications' to your phone. If the places and times stored in your digital diary show you may have been exposed to someone with COVID-19, you'll receive a contact alert. This does not involve transmitting any location information from your phone to the Ministry of Health.
If you are identified as a confirmed or probable case of COVID-19, a contact tracer will get in touch to provide advice on self-isolation and to check on your health and wellbeing. During the phone call, the contact tracer will also ask you for information about the places you've been and the people you've seen. To help with this, you can open your digital diary by going to the 'My profile' screen and selecting the 'View my diary' option.
Save your NHI number (optional)
You can also save your NHI number within the NZ COVID Tracer app by going to the 'My profile' screen and tapping on the 'My NHI details' option. You'll then be prompted to enter your NHI number for easy access if you ever need a COVID-19 test.

Businesses can find out how to create a QR code poster for their workplace here(external link).
More information
For the complete app description, go to the app website(external link), Google Play(external link) or App Store(external link).
Also see:
| | |
| --- | --- |
| How to use NZ COVID Tracer app | Message from Dr Ashley Bloomfield |
| | |
Review details
Date of review: February 2021
Platform reviewed: Android
Version: 3.0.2
Related topics
COVID-19 care and information topics
COVID-19 | Mate korona outbreak
Consumer guide: how to choose a health app
Clinicians guide: how to choose a health app
NZ Health App Library
App developer: If you are the developer and would like to provide updated information about this app, please email the app library manager at
hello@healthify.nz
Disclaimer: Healthify's app library is a free consumer service to help you decide whether a health app would be suitable for you. Our review process is independent. We have no relationship with the app developers or companies and no responsibility for the service they provide. This means that if you have an issue with one of the apps we have reviewed, you will need to contact the app developer or company directly.