My Kidneys, My Health
By Kidney Health Australia
Features


Education and information
Online community

Get the app from



Clinical review





Read a clinical review of this app.

User reviews

(0 reviews)


Have you used this app? Tell us what you think of it

Rate this app

Cost
Free
What does the app do?
This app is a collection of resources to help people better manage their kidney disease. The app has 3 main sections, which are colour-coded:
Blue - detect: this section has information about understanding kidney disease and how it is diagnosed.
Green - prevent:

this section has information on ways to slow down or stop kidney damage.

Yellow - support:

this section has tips on how to help yourself and how others can help you.
In addition the app has links to a variety of resources and factsheets, a dictionary explaining complex medical terms and a FAQ (frequently asked questions) section. For the complete app description, go to the app website(external link) , Google Play(external link) or iTunes(external link) and for a detailed review, see Reviews.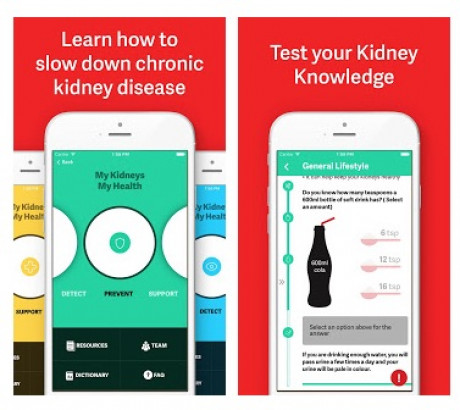 PROS
CONS

✔ Interactive and largely accurate information about chronic kidney disease with a few quizzes.

✔ Has links to external resources (but these are Australian specific).


✘ There are several errors of omission. There is no information on statins, aspirin, anaemia, influenza and pneumococcal vaccination, and potassium among other topics. There is only passing mention of dialysis and other renal replacement therapies.

✘ For the topics that are covered, they were generally correct, however there were a few inaccuracies:
* Normal eGFR is widely defined as above 60, and this is the cutoff used on laboratory results. This app calls an eGFR of 60 being at 60% of normal with 100 being 100% of normal.
* The app uses their own version of chronic kidney disease classification which is based on the KDIGO criteria. They should have just used the proper KDIGO criteria which is what patients will encounter.
* The section on haematuria says it is caused by menstruation and tumours. There is actually a long list of causes.

✘ There is no mention of there being renal physician input and assessing the content, it appears unlikely.

✘ There were several typographic errors.

✘ The blood pressure section uses brand names for medicines rather than the generic names
Privacy and security
No login is required and the app is not password protected. The app has a privacy policy. Read more about things you can do to improve your safety and security when using apps.
Review details
Date of review: March 2019
Platform reviewed: Android
Version: 1.1
Size: 19.45 MB
Updated on: May 2016
Disclaimer: Healthify's app library is a free consumer service to help you decide whether a health app would be suitable for you. Our review process is independent. We have no relationship with the app developers or companies and no responsibility for the service they provide. This means that if you have an issue with one of the apps we have reviewed, you will need to contact the app developer or company directly.