My Eczema Tracker
By University of Nottingham
Features


Diary
Tracking
Graphs and reporting
Data exports
Translated versions

Get the app:


(external link)

Country of origin
United Kingdom
Clinical review




Read a clinical review of this app.

Security and privacy
Does the app:


collect medical information? Unknown
require a login? No
have password protection? No
have a privacy policy? Yes
require internet access? Yes

Read more safety tips around health apps.
Cost
Free
Advertisements
This app contains no ads.
What does the app do?
My Eczema Tracker app is for people who want to find out how their eczema is progressing (or that of a child/dependent), and if their symptoms are improving or declining over time. The app creates a graph based on the symptoms the user reports, so they can track their progress over time.

The app uses 2 scoring scales, the (POEM – Patient Orientated Eczema Measure) which has 7 questions to tract symptoms over time, and Eczema Control (RECAP) which has 7 questions to track eczema control and provide a picture of how eczema is impacting your life.
For the complete app description, go to Google Play(external link), App Store(external link) or, for a more detailed review, see Reviews.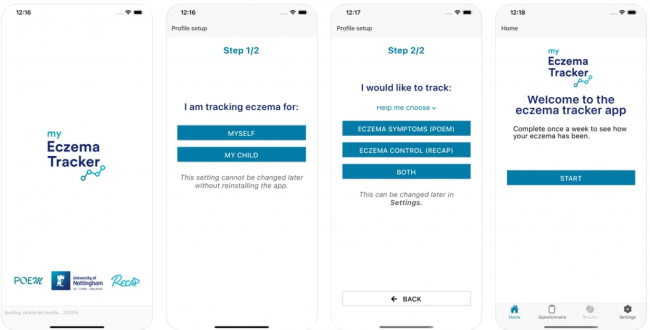 PROS
CONS

✔ Progress can be tracked.

✔ Users can find out if changes made have positive impact on eczema.

✘ The app only records one person's results, so either for yourself, or one child/dependent.
Review details
Date of review: July 2022
Platform reviewed: Apple
Version: 1.1.0
Related topics
Eczema apps
NZ Health App Library
Consumer guide: how to choose a health app
Clinicians guide: how to choose a health app
Eczema topics
App developer: If you are the developer and would like to provide updated information about this app, please email the app library manager at
hello@healthify.nz
Disclaimer: Healthify's app library is a free consumer service to help you decide whether a health app would be suitable for you. Our review process is independent. We have no relationship with the app developers or companies and no responsibility for the service they provide. This means that if you have an issue with one of the apps we have reviewed, you will need to contact the app developer or company directly.