iNSider
By University of Michigan
Features

Online tracking tool
Education and information
(about nephrotic syndrome)
Patient stories

Get the app from


(external link)




Clinical review





Read a clinical review of this app.

Cost
Free
What does the tool do?
This online tool is an interactive way to track your nephrotic syndrome journey from first symptoms and diagnosis to treatment. Presented as a map, with a bicycle showing you where you are in the journey, you can plot your journey. On the map, tree grove icons have a specific name and clicking on it gives more information relating to that topic such as biopsy, treatment, etc. Guide post icons offer basic information about that stage of the journey such as first symptoms, diagnosis, etc.
The tool also allows you to record questions for your health care team, record your current treatments, invite a health care provider to participate in Insider and view readings suggested by your provider.
For a more information see the NephCure website(external link) or for a more detailed review, see Reviews.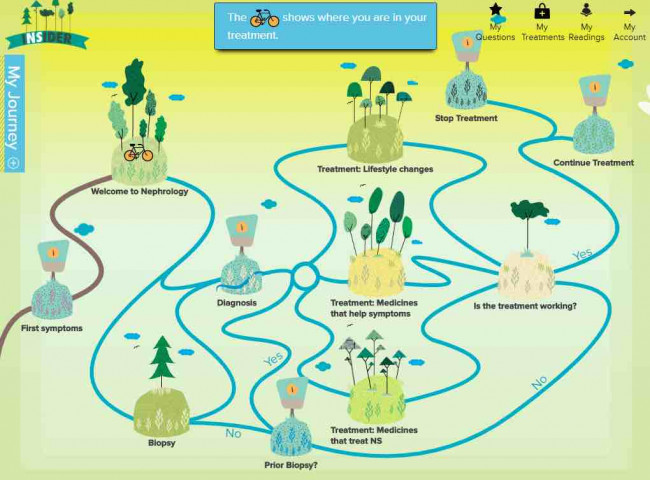 PROS
CONS

✔ Input from renal specialists, patients and parents of patients.

✔ Initial health screening and health literacy questionnaire.

✔ Extensive accurate information about nephrotic syndrome covering symptoms, biopsy, diagnosis, medication, lifestyle, and monitoring.

✔ Compile a question list for your doctor


✘ No mobile app available (web only), and it is not optimised for mobile browser viewing either.

✘ Security certificate was invalid during testing and so the connection was not secure.

✘ No section for tracking results and measurements.

✘ Current therapies and medication page is very basic.

✘ No videos
Privacy and security
The tool has a privacy policy outlining the information collected and how it is managed. Read more about things you can do to improve your safety and security when using apps.
Review details
Date of review: March 2019
Platform reviewed: Website (online tool)
Learn more
Beanlands H, Maione M, Poulton C, et al. Learning to live with nephrotic syndrome: experiences of adult patients and parents of children with nephrotic syndrome

(external link)

. Nephrol Dial Transplant. 2017 Jan 1;32(suppl_1):i98-i105.
Related topics
Chronic kidney disease (CKD)
NZ Health App Library
Kidney disease apps
Consumer guide: how to choose a health app
Clinicians guide: how to choose a health app
App developer: If you are the developer and would like to provide updated information about this app, please email the app library manager at
hello@healthify.nz
Disclaimer: Healthify's app library is a free consumer service to help you decide whether a health app would be suitable for you. Our review process is independent. We have no relationship with the app developers or companies and no responsibility for the service they provide. This means that if you have an issue with one of the apps we have reviewed, you will need to contact the app developer or company directly.