Happify
By Happify Inc
Features


Goal setting
Follow different tracks based on your goals
Gamification
Reminders

Get the app from


(external link)

(external link)

Country of origin
USA
Clinical review
Free version:





Read a clinical review of this app.

Privacy and security
Does the app:


collect medical information? Yes
require a login? Yes
have password protection? Yes
have a privacy policy? Yes
require internet access? Yes

Read more

safety tips around health apps

.

Cost
Free – basic
Paid upgrade – $234.99 per annum/$24.99 per month
What does the app do?
This app aims at making you feel happier. The core of the app is following different 'tracks' where you complete activities to reach a goal such as conquering negative thoughts, controlling anger, improving sleep etc. It uses 'gamification' with the ability to 'level up' and increase different 'stats' namely Savor, Thank, Aspire, Give and Empathise. The app is highly interactive, and there are many mini-games. You can take a positive psychology personality test to discover your strengths and then try and use these strengths in your daily life to increase wellbeing. For the complete app description, go to the App website(external link) , or iTunes(external link) and for a detailed review, see Reviews.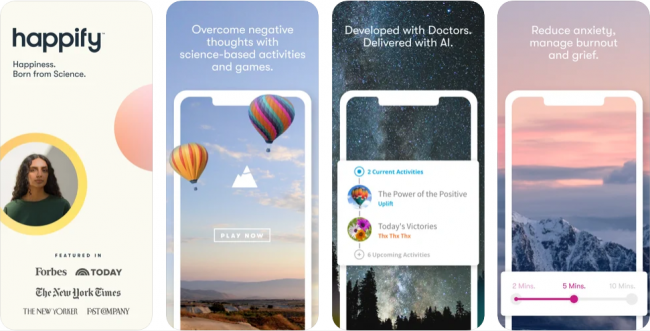 PROS
CONS

✔ Several trials published showing improvement in well-being in those with chronic health conditions and young people, but this research should be taken as preliminary given the lack of control groups in the studies and small sample sizes.

✔ Activities are extensively explained and referenced although exercises prescribed may be only loosely associated with the theories they reference.

✔ Community section, but I couldn't see any evidence of it being extensively monitored.

✔ Complete a validated personal character strengths questionnaire.

✔ Paired website, can complete activities on all devices.

✔ Attractive format.


✘ Some mini games felt gimmicky and are only very loosely associated with the positive psychology research findings they claim to support.

✘ Free version is very limited.

✘ Navigation was very slow.

✘ App is glitchy and logging in on a phone can be difficult.

✘ The use of "tracks" or individually prescribed courses means that the user is set 3 or 4 daily tasks chosen by the app each day. It is difficult to use these tools and strategies outside the days they are prescribed, limiting users' ability to learn how to use psychological tools and incorporate these into daily life. This is a very passive way of engaging in wellbeing strategies.

✘ Some users will find it frustrating to have little choice in the coping tools and strategies they use each day.

✘ New Zealand audiences may find some interpersonal tasks and assignments do not match their ways of expressing themselves in relationships.
Review details
April 2022; Android
April 2018; Android
Other useful resources
This app has been reviewed by other independent websites.
Related topics
Goal setting, problem solving and motivation apps
NZ Health App Library
Making changes and goal setting
App developer: If you are the developer and would like to provide updated information about this app, please email the app library manager at
hello@healthify.nz
Disclaimer: Healthify's app library is a free consumer service to help you decide whether a health app would be suitable for you. Our review process is independent. We have no relationship with the app developers or companies and no responsibility for the service they provide. This means that if you have an issue with one of the apps we have reviewed, you will need to contact the app developer or company directly.