H2O Overload
By the National Kidney Foundation (USA)

Features


Fluid intake tracking
Weight recording
Blood pressure recording
Medication list
Doctors' appointment list
Reports for sharing

Get the app from


(external link)

(external link)

Clinical review






Read a clinical review of this app.

Privacy and security
Does the app:


collect medical information? Yes
require a login? No
have password protection? No
have a privacy policy? No
require internet access? Yes

Read more

safety tips around health apps
Cost
Free
What does the app do?
The app enables you to keep track of your daily fluid intake, weight and blood pressure. It allows you to set limits for these measurements and alerts you if your blood pressure or weight reaches a level that means you need to tell your healthcare provider. The app has provision for you to add doctors' appointments to a diary, create medication lists and store questions for your healthcare provider. It also has information about heart disease, kidney disease, low sodium levels and dietary tips.

For the complete app description, go to iTunes(external link) (Apple) and, for a detailed review, see Reviews.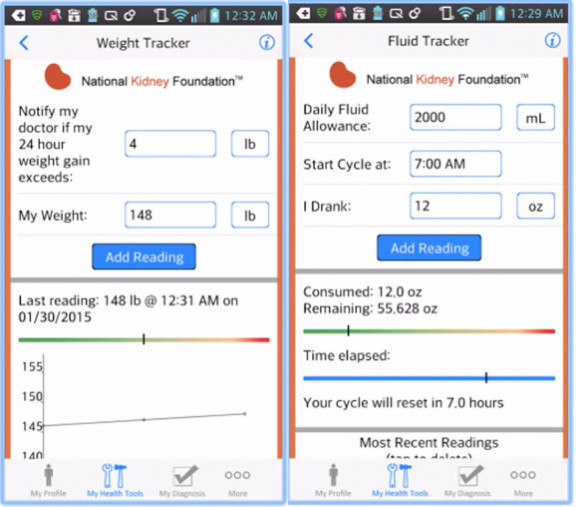 PROS
CONS

✔

Easy-to-use tracking features – able to track weight, fluid intake and blood pressure.



✔

Quick data entry with the option to export progress in graphical format.



✔

Displays an alert message when limits have been exceeded.



✔

Weight trends can be viewed as graphs for the past week, month, 3 months and 6 months.



✔

Good educational resource.

✘

The My Medications function that allows you to create a list of medications is free-typed rather than a drop-down list.



✘

No option to view fluid intake over previous days, as the app resets the fluid intake log every 24 hours.



✘

Default settings are American measurement units such as pounds and ounces, although you can convert to kg and mL – each time you open the app it defaults back to pounds and ounces.



✘ Available for Apple devices only; no Android version.
Review details
April 2020:

V

ersion: 1.0.2,

Apple

December 2016: V

ersion: 1.0.2,

Android
Learn more
The following references relate to articles about apps for heart failure and kidney disease.
Athilingam P, Osorio RE, Kaplan H, et al. Embedding patient education in mobile platform for patients with heart failure: Theory-based development and beta testing

(external link)

. Comput Inform Nurs. 2016 Feb;34(2):92-8.
Lai J, Porter J. Dietary mobile apps and their effect on nutritional indicators in chronic renal disease: a systematic review

(external link)

. Nephrology (Carlton). 2015 May 10.
Related resources
This app has been reviewed by other independent websites:
An app physicians should consider recommending for CHF and renal patients(external link) iMedicalApps
Related topics
Consumer guide: how to choose a health app
Clinicians guide: how to choose a health app
Heart failure apps
NZ Health App Library
Heart failure | Manawa ngoikore
Chronic kidney disease (CKD)
App developer: If you are the developer and would like to provide updated information about this app, please email the app library manager at
hello@healthify.nz
Disclaimer: Healthify's app library is a free consumer service to help you decide whether a health app would be suitable for you. Our review process is independent. We have no relationship with the app developers or companies and no responsibility for the service they provide. This means that if you have an issue with one of the apps we have reviewed, you will need to contact the app developer or company directly.