forDiabetes
By Tessera Multimedia
Features


Tracking of blood glucose, meals, medicines, activities
Estimation of HbA1c based on blood glucose history
Export and share reports

Get the app from


Clinical review




Read a clinical review of this app.

Security and privacy
Does the app:


collect medical information? Yes
require a login? No
have password protection? Yes
have a privacy policy? Yes
require internet access? Yes

Read more safety tips around health apps
Cost

Learn more about app charges
What does the app do?
This app is a personalised diabetes tool for people with diabetes who want to keep track of their blood glucose results, blood pressure, exercise and diet. The app provides a clear dashboard of blood glucose results. Activities and meals can be included and displayed on graphs to track progress. Medicines can be listed and reminders set.

The app can pair to some blood glucose monitors and some activity apps such as Google Fit, Apple Health and Fitbit. For the complete app description, go to the app website(external link), Google Play(external link), App Store(external link) or, for a more detailed review, see Reviews.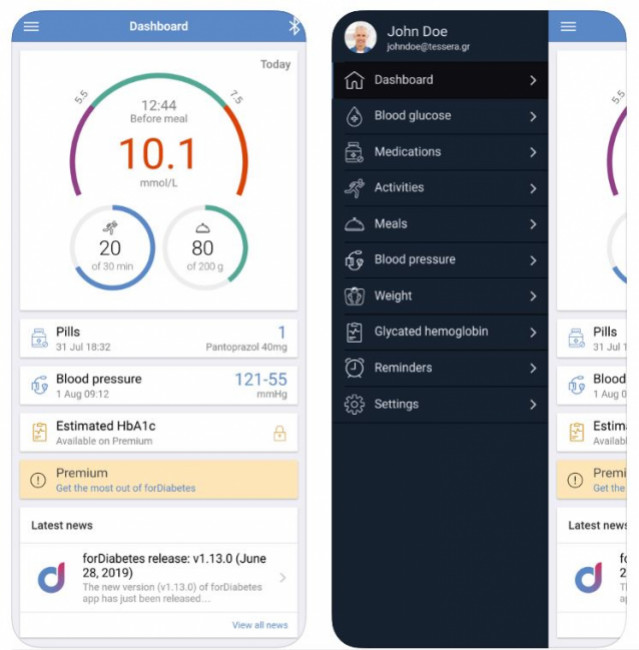 PROS
CONS

✔ Nice display of blood glucose readings and activities.

✔ Has reminders and goals that can be set.

✔ Data can be exported and shared.

✔ Units can be changed to suit the user.

✔ Can be used in several languages.

✘ Graphs don't overlay medicines, activity or meals with blood glucose results. The user needs to move between tabs.

✘ Does not record medicines taken, only the medicines list.

✘ Many additional functions and features only available with paid upgrade.
Review details
Date of review: April 2020
Platform reviewed: Apple
Version: 1.15. 0
Last updated: October 2019
Learn more
Related topics
Diabetes type 2 apps
Diabetes topics
Consumer guide: how to choose a health app
Clinicians guide: how to choose a health app
NZ Health App Library
App developer: If you are the developer and would like to provide updated information about this app, please email the app library manager at
hello@healthify.nz
Disclaimer: Healthify's app library is a free consumer service to help you decide whether a health app would be suitable for you. Our review process is independent. We have no relationship with the app developers or companies and no responsibility for the service they provide. This means that if you have an issue with one of the apps we have reviewed, you will need to contact the app developer or company directly.