Curable
By Curable Health
Features


Education and information.
Goal setting.
Tracking.
Reminders.
App community.

Get the app:


Clinical review
Free version





Read a clinical review of this app.

Security and privacy

Does the app:

collect medical information? No
require a login? Yes
have password protection? No
have a privacy policy: Yes
require internet access? Yes

Read more safety tips around health apps

Cost
The basic version is free, but there is a paid upgrade version



Learn more about

app charges
Advertisements
This app contains no ads.
What does the app do?
Curable is an app used to deliver step-by-step education, information and practical strategies to address chronic pain. The app uses a virtual coach with a narrative style and takes a user through the process to adequately understand pain, the reasons for it, the mechanisms behind it, and how we can work to address it. It includes practical exercises to address pain.
The app is aimed at individuals with chronic pain and healthcare providers who want to use this app to help with educating their patients who have chronic pain. For the complete app description, go to Google Play(external link) , iTunes(external link) and the app website(external link) or for a more detailed review, see Reviews.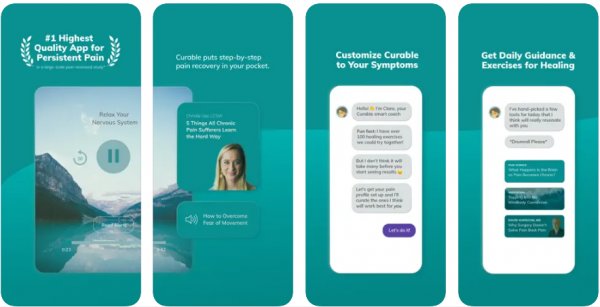 PROS
CONS

✔ The style of this app is quite user-friendly. It uses a "virtual coach" which is displayed as if someone is messaging you and giving some practical solutions. The language used is easy to understand, and it presents the information in an easy-to-understand manner.

✔ The app does a good job of creating building blocks of learning – teaching a principle and then building on this further.

✔ The app has additional resources that can be used either by healthcare providers in their clinics, or by individuals.

✔ There are 2 methods for delivering content, either through audio, or reading the text.


✘ The app does have what some will call a significant cost associated with it (renewing annual subscription of $118 per year NZD).

✘ This app isn't for someone seeking a quick fix. While this is a positive for those experiencing chronic pain, you can't jump straight into a solution. You have to take some time to work through the initial pain education first before the strategies, or practical solutions and exercises are presented. From a chronic pain management strategy, this is very positive but it may frustrate some users.
Review details
Date of review: June 2023
Platform reviewed: Android (works with Android 5.1 and up)
Version: 5.0.6
Related topics
Pain topics
Pain management apps
Consumer guide: how to choose a health app
Clinicians guide: how to choose a health app
NZ Health App Library
References
Devan H, Farmery D, Peebles L, Grainger R. Evaluation of Self-Management Support Functions in Apps for People With Persistent Pain: Systematic Review.

(external link)

JMIR Mhealth Uhealth. 2019 Feb 12;7(2)
Rahman QA, Janmohamed T, Pirbaglou M, et al. Patterns of User Engagement With the Mobile App, Manage My Pain: Results of a Data Mining Investigation.

(external link)

JMIR Mhealth Uhealth. 2017 Jul 12;5(7):e96.
Chaudhry BM. No gain without pain: using pain tracking mobile Apps

(external link)

. Mhealth. 2016 Jul 4;2:27.

Lalloo C, Jibb LA, Rivera J, et al.

"There's a Pain App for That": Review of Patient-targeted Smartphone Applications for Pain Management.

(external link)

Clin J Pain. 2015 Jun;31(6):557-63.
Wallace LS, Dhingra LK. A systematic review of smartphone applications for chronic pain available for download in the United States.

(external link)

J Opioid Manag. 2014 Jan-Feb;10(1):63-8.
App developer: If you are the developer and would like to provide updated information about this app, please email the app library manager at
hello@healthify.nz
Disclaimer: Healthify's app library is a free consumer service to help you decide whether a health app would be suitable for you. Our review process is independent. We have no relationship with the app developers or companies and no responsibility for the service they provide. This means that if you have an issue with one of the apps we have reviewed, you will need to contact the app developer or company directly.