Coeliac Care Program
By ALBY Health
Features


Online coeliac course
Online group classes
Gluten-free recipes
Meal planning tools
Dietitian sessions

Get the app:


(external link)




Country of origin

New Zealand

Clinical review





Read a clinical review of this app.

User reviews

Security and privacy
Does the app:


collect medical information? No
require a login? Yes
have password protection? Yes
have a privacy policy? Yes
require internet access? Yes

Read more safety tips around health apps
Cost

$8 (NZ) per month gives access to more than 650+ gluten free recipes.
$24 (NZ) per month for e-courses, chat support, access to dietitian team and recipes/menu planning.
No minimum term of subscribing, so you can cancel at any time.
What does the online course do?
Coeliac Care Program is an evidence-based online course, with how-to resources for people with coeliac disease. The easy-to-understand course information explains coeliac disease, plus the health consequences and risks. It has been developed in New Zealand.

Resources are designed by consumers for consumers and the information is reviewed and approved by registered dietitians and Coeliac New Zealand. Information resources include examples of label reading, cross contamination, dining out, stocking a gluten-free pantry and commonly asked questions. There is additional support of menu planning and recipe ideas to help ensure users get enough nutrients in their diet.
For the complete description, go to the website(external link) or, for a more detailed review, see Reviews.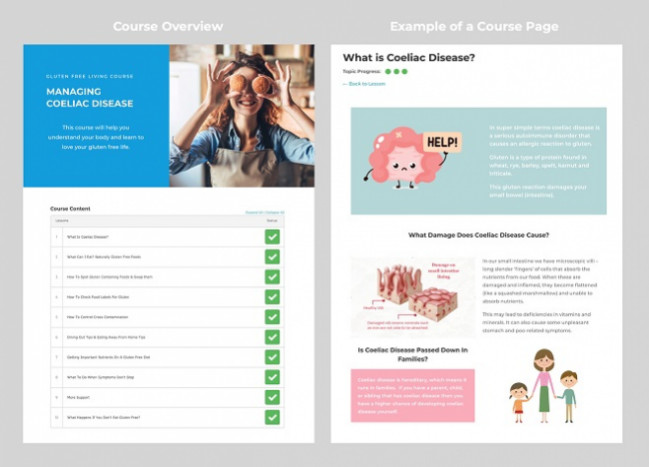 PROS
CONS

✔ Simple, clear, consumer-led.

✔ Robustly reviewed and evidence based.

✔ You can guide yourself through it and come back to consolidate your learning in your own time.

✘ Not available in te reo Māori.



Review details
Date of review: August 2020
Platform reviewed: Online course
Related topics
Coeliac disease
Coeliac disease apps
NZ Health App Library
Consumer guide: how to choose a health app
Clinicians guide: how to choose a health app
Security and privacy of health apps
App developer
If you are the developer and would like to provide updated information about this app, please email the app library manager at applibrary@healthify.org.nz.
Disclaimer: Healthify's app library is a free consumer service to help you decide whether a health app would be suitable for you. Our review process is independent. We have no relationship with the app developers or companies and no responsibility for the service they provide. This means that if you have an issue with one of the apps we have reviewed, you will need to contact the app developer or company directly.