CBT-i Coach
By US Department of Veterans Affairs (VA)
Features


Sleep tracker
Education and information
Cognitive behavioural therapy-based
Reminders (to change sleep habits)
Relaxation exercises
Mindfulness exercises

Get the app:


Country of origin
USA
Clinical review





Read a clinical review of this app.

Security and privacy
Does the app:


collect medical information? Yes
require a login? No
have password protection? No
have a privacy policy: Yes
require internet access? No

Read more

safety tips around health apps
Cost
Free
What does the app do?
CBT-i Coach app is designed in collaboration with the US Department of Veterans Affairs (VA), so it is aimed mainly at supporting veterans and military service members who are receiving treatment for insomnia. However, most of the information and recommendations are quite general, and can be helpful to anyone having sleep difficulties. The developers recommend that this app be used together with a health care provider. The app is divided into 4 main sections:
My Sleep: this section has questions and assessments that enable the user to get a better idea of their sleep habits and together with their health care provider, can ascertain if they have a sleep problem. After completing 5 sleep day diary entries, the user is given an individualised sleep prescription.
Tools: this section has various tools to improve sleep habits. For example, users are offered suggestions on how to incorporate positive behaviours into their night-time routine, and given a variety of relaxation and mindfulness techniques to help ease into sleep including audio and visual exercises to help settle the mind.
Learn: provides users with information to get a better understanding of sleep and sleep problems. This section also has a basic glossary that explains the meaning of complex terms around insomnia.
Reminders: this section has various reminders to encourage you to use the tools in the app and to help you keep a healthy sleep schedule.
For a more detailed description of the app, see Google Play(external link) or iTunes(external link) and for a detailed review, see Reviews.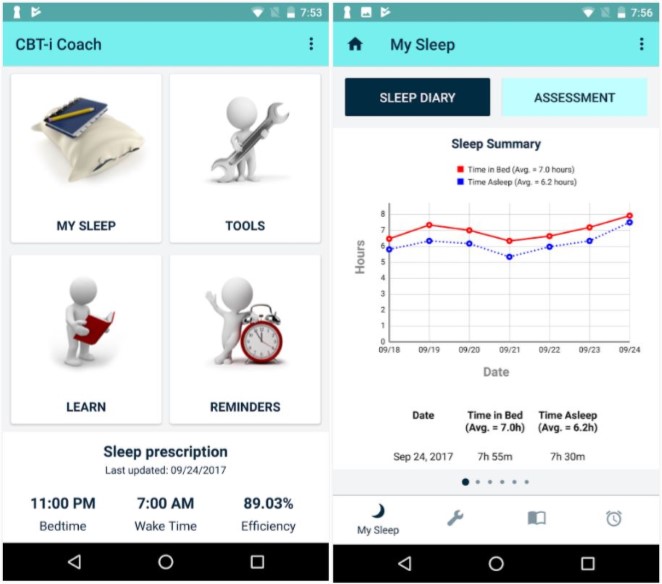 Pros

Cons

✔ Extensive input from psychologists expert in the treatment of insomnia.

✔ Comprehensive accurate information about sleep, sleep hygiene, stimulus control and many related topics.

✔ Many audio-visual guided tools – breathing tool, relaxation tool, mindfulness, body scan and guided imageries. Audio-visual guided breathing tool and a muscle relaxation tool.

✔ Has numerous types of reminders (eg, worry time, wind down time, bed time, wake time etc)

✔ Includes sleep diary, calculation of sleep efficiency and graphing of data.

✔ Record and track results from a validated sleep questionnaire – the Insomnia Severity Index.

✔ The app can algorithmically set and adjust sleep/wake times based on sleep diary and questionnaire data following sleep restriction principles.

✔ If your sleep quality is too poor, it will prompt you to see a professional before allowing the app to prescribe a bedtime. You can override this by selecting that you are seeing a professional in the settings.

✘ No syncing of data.



✘ Developed primarily for those already receiving treatment for insomnia.

✘ Focus is very much on US veterans suffering from insomnia due to PTSD but app is still useful for others suffering from insomnia.

✘ Diary entry use difficult to find/access.






Review details
April 2022; Version 2.4; Android
March 2018
Learn more
Koffel E, Kuhn E, Petsoulis N, et al. A randomized controlled pilot study of CBT-I Coach – feasibility, acceptability, and potential impact of a mobile phone application for patients in cognitive behavioral therapy for insomnia(external link) Health Informatics J. 2018 Mar;24(1):2-13.
Kuhn E, Weiss BJ, Taylor KL, et al. CBT-I Coach: A Description and Clinician Perceptions of a Mobile App for Cognitive Behavioral Therapy for Insomnia(external link) J Clin Sleep Med. 2016 Apr 15;12(4):597-606.
Ko P-RT, Kientz JA, Choe EK, et al. Consumer sleep technologies – a review of the landscape(external link) J Clin Sleep Med. 2015 Dec 15;11(12):1455-61.
Resources
Healthy sleep hygiene

[PDF, 306 KB]
Auckland DHB, NZ
Common sleep problems

(external link)
Health Information Translations, 2020
English

(external link)
,
Arabic

(external link)
,
Chinese (simplified)

(external link)
,
Chinese (traditional)

(external link)
,
French

(external link)
,
Hindi

(external link)
,
Japanese

(external link)
,
Korean

(external link)
,
Nepali

(external link)
,
Russian

(external link)
,
Somali

(external link)
,
Spanish

(external link)
,
Vietnamese

(external link)
Related topics
Common sleep problems
Sleep tips
Consumer guide: how to choose a health app
Clinicians guide: how to choose a health app
NZ Health App Library
App developer: If you are the developer and would like to provide updated information about this app, please email the app library manager at
hello@healthify.nz
Disclaimer: Healthify's app library is a free consumer service to help you decide whether a health app would be suitable for you. Our review process is independent. We have no relationship with the app developers or companies and no responsibility for the service they provide. This means that if you have an issue with one of the apps we have reviewed, you will need to contact the app developer or company directly.