Buddhify
By Mindfulness Everywhere
Features


Mindfulness audio
Can share mindfulness audios with others using social media, messaging, text or email

Get the app from


Country of origin
United Kingdom
Clinical review






Read a clinical review of this app.

Privacy and security
Does the app:


collect medical information? No
require a login? No
have password protection? No
have a privacy policy? Yes
require internet access? Yes/No

Read more

safety tips around health apps

.

Cost
Basic: $6.49
Paid upgrade: $30 per annum for subscription.
What does the app do?
Buddhify app is a mindfulness app that provides the user with over 200 audio tracks of guided meditations for use in many different situations and environments. The app is suitable for all ages with separate, tailored meditations for children and adults. For the complete app description, go to the App website(external link), Google Play(external link) or iTunes(external link) and for a detailed review, see Reviews.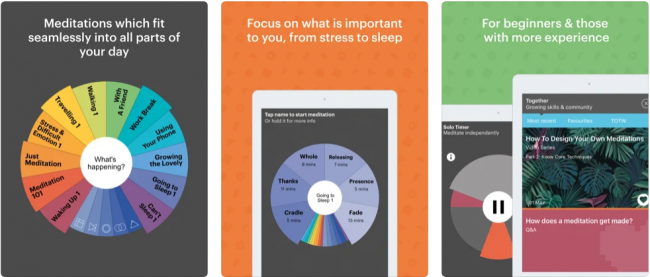 PROS
CONS

✔ Wide range of mindfulness exercises provided.

✔ Mindfulness exercises are presented in a fun and engaging way making them feel more contemporary than traditional mindfulness exercise.

✔ Includes mindfulness that can be practiced "on the go" including while walking, travelling or at work.

✔ Language used in the exercises emphasises making mindfulness enjoyable while giving the mind a rest.

✔ Visually appealing with exercises presented in wheel format.

✔ Possible to tailor own selection of apps and set favourites. Can also choose different "wheels" of exercises that explore themes such as dealing with work stress, practicing with others, getting through difficult times and addressing poor sleep.

✔ Useful articles that introduce the user to mindfulness and how to make mindfulness into a habit are available.

✔ Able to share specific exercises with others.

✔ Timer function for non-guided self directed practice.


✘ No free content, but a relatively low purchase price gives the user a large and fully functional app.
Review details
April 2022; Android; Version 4.3.11
Related topics
Meditation and mindfulness apps
Mental health and wellbeing apps
NZ Health App Library
Consumer guide: how to choose a health app
Clinicians guide: how to choose a health app
App developer: If you are the developer and would like to provide updated information about this app, please email the app library manager at
hello@healthify.nz
Disclaimer: Healthify's app library is a free consumer service to help you decide whether a health app would be suitable for you. Our review process is independent. We have no relationship with the app developers or companies and no responsibility for the service they provide. This means that if you have an issue with one of the apps we have reviewed, you will need to contact the app developer or company directly.